UFC Ultimate Staredown
CREATIVE · UX · UI · MOTION · DEVELOPMENT · AI · CREATIVE · UX · UI · MOTION · DEVELOPMENT · AI · CREATIVE · UX · UI · MOTION · DEVELOPMENT · AI · CREATIVE · UX · UI · MOTION · DEVELOPMENT · AI · CREATIVE · UX · UI · MOTION · DEVELOPMENT · AI · CREATIVE · UX · UI · MOTION · DEVELOPMENT · AI · CREATIVE · UX · UI · MOTION · DEVELOPMENT · AI · CREATIVE · UX · UI · MOTION · DEVELOPMENT · AI · CREATIVE · UX · UI · MOTION · DEVELOPMENT · AI · CREATIVE · UX · UI · MOTION · DEVELOPMENT · AI · CREATIVE · UX · UI · MOTION · DEVELOPMENT · AI · CREATIVE · UX · UI · MOTION · DEVELOPMENT · AI · CREATIVE · UX · UI · MOTION · DEVELOPMENT · AI · CREATIVE · UX · UI · MOTION · DEVELOPMENT · AI · CREATIVE · UX · UI · MOTION · DEVELOPMENT · AI · CREATIVE · UX · UI · MOTION · DEVELOPMENT · AI · CREATIVE · UX · UI · MOTION · DEVELOPMENT · AI · CREATIVE · UX · UI · MOTION · DEVELOPMENT · AI · CREATIVE · UX · UI · MOTION · DEVELOPMENT · AI · CREATIVE · UX · UI · MOTION · DEVELOPMENT · AI · CREATIVE · UX · UI · MOTION · DEVELOPMENT · AI · CREATIVE · UX · UI · MOTION · DEVELOPMENT · AI · CREATIVE · UX · UI · MOTION · DEVELOPMENT · AI · CREATIVE · UX · UI · MOTION · DEVELOPMENT · AI · CREATIVE · UX · UI · MOTION · DEVELOPMENT · AI · CREATIVE · UX · UI · MOTION · DEVELOPMENT · AI · CREATIVE · UX · UI · MOTION · DEVELOPMENT · AI · CREATIVE · UX · UI · MOTION · DEVELOPMENT · AI · CREATIVE · UX · UI · MOTION · DEVELOPMENT · AI · CREATIVE · UX · UI · MOTION · DEVELOPMENT · AI · CREATIVE · UX · UI · MOTION · DEVELOPMENT · AI · CREATIVE · UX · UI · MOTION · DEVELOPMENT · AI · CREATIVE · UX · UI · MOTION · DEVELOPMENT · AI · CREATIVE · UX · UI · MOTION · DEVELOPMENT · AI · CREATIVE · UX · UI · MOTION · DEVELOPMENT · AI · CREATIVE · UX · UI · MOTION · DEVELOPMENT · AI · CREATIVE · UX · UI · MOTION · DEVELOPMENT · AI · CREATIVE · UX · UI · MOTION · DEVELOPMENT · AI · CREATIVE · UX · UI · MOTION · DEVELOPMENT · AI · CREATIVE · UX · UI · MOTION · DEVELOPMENT · AI · CREATIVE · UX · UI · MOTION · DEVELOPMENT · AI · CREATIVE · UX · UI · MOTION · DEVELOPMENT · AI · CREATIVE · UX · UI · MOTION · DEVELOPMENT · AI · CREATIVE · UX · UI · MOTION · DEVELOPMENT · AI · CREATIVE · UX · UI · MOTION · DEVELOPMENT · AI · CREATIVE · UX · UI · MOTION · DEVELOPMENT · AI · CREATIVE · UX · UI · MOTION · DEVELOPMENT · AI · CREATIVE · UX · UI · MOTION · DEVELOPMENT · AI · CREATIVE · UX · UI · MOTION · DEVELOPMENT · AI · CREATIVE · UX · UI · MOTION · DEVELOPMENT · AI · CREATIVE · UX · UI · MOTION · DEVELOPMENT · AI · CREATIVE · UX · UI · MOTION · DEVELOPMENT · AI · CREATIVE · UX · UI · MOTION · DEVELOPMENT · AI · CREATIVE · UX · UI · MOTION · DEVELOPMENT · AI · CREATIVE · UX · UI · MOTION · DEVELOPMENT · AI · CREATIVE · UX · UI · MOTION · DEVELOPMENT · AI · CREATIVE · UX · UI · MOTION · DEVELOPMENT · AI · CREATIVE · UX · UI · MOTION · DEVELOPMENT · AI · CREATIVE · UX · UI · MOTION · DEVELOPMENT · AI · CREATIVE · UX · UI · MOTION · DEVELOPMENT · AI · CREATIVE · UX · UI · MOTION · DEVELOPMENT · AI · CREATIVE · UX · UI · MOTION · DEVELOPMENT · AI · CREATIVE · UX · UI · MOTION · DEVELOPMENT · AI · CREATIVE · UX · UI · MOTION · DEVELOPMENT · AI · CREATIVE · UX · UI · MOTION · DEVELOPMENT · AI · CREATIVE · UX · UI · MOTION · DEVELOPMENT · AI · CREATIVE · UX · UI · MOTION · DEVELOPMENT · AI · CREATIVE · UX · UI · MOTION · DEVELOPMENT · AI · CREATIVE · UX · UI · MOTION · DEVELOPMENT · AI · CREATIVE · UX · UI · MOTION · DEVELOPMENT · AI · CREATIVE · UX · UI · MOTION · DEVELOPMENT · AI · CREATIVE · UX · UI · MOTION · DEVELOPMENT · AI · CREATIVE · UX · UI · MOTION · DEVELOPMENT · AI · CREATIVE · UX · UI · MOTION · DEVELOPMENT · AI · CREATIVE · UX · UI · MOTION · DEVELOPMENT · AI · CREATIVE · UX · UI · MOTION · DEVELOPMENT · AI · CREATIVE · UX · UI · MOTION · DEVELOPMENT · AI · CREATIVE · UX · UI · MOTION · DEVELOPMENT · AI · CREATIVE · UX · UI · MOTION · DEVELOPMENT · AI · CREATIVE · UX · UI · MOTION · DEVELOPMENT · AI · CREATIVE · UX · UI · MOTION · DEVELOPMENT · AI · CREATIVE · UX · UI · MOTION · DEVELOPMENT · AI · CREATIVE · UX · UI · MOTION · DEVELOPMENT · AI · CREATIVE · UX · UI · MOTION · DEVELOPMENT · AI · CREATIVE · UX · UI · MOTION · DEVELOPMENT · AI · CREATIVE · UX · UI · MOTION · DEVELOPMENT · AI · CREATIVE · UX · UI · MOTION · DEVELOPMENT · AI · CREATIVE · UX · UI · MOTION · DEVELOPMENT · AI · CREATIVE · UX · UI · MOTION · DEVELOPMENT · AI · CREATIVE · UX · UI · MOTION · DEVELOPMENT · AI · CREATIVE · UX · UI · MOTION · DEVELOPMENT · AI · CREATIVE · UX · UI · MOTION · DEVELOPMENT · AI · CREATIVE · UX · UI · MOTION · DEVELOPMENT · AI · CREATIVE · UX · UI · MOTION · DEVELOPMENT · AI · CREATIVE · UX · UI · MOTION · DEVELOPMENT · AI · CREATIVE · UX · UI · MOTION · DEVELOPMENT · AI · CREATIVE · UX · UI · MOTION · DEVELOPMENT · AI · CREATIVE · UX · UI · MOTION · DEVELOPMENT · AI · CREATIVE · UX · UI · MOTION · DEVELOPMENT · AI · CREATIVE · UX · UI · MOTION · DEVELOPMENT · AI ·
Hype reel
Get your game face on
UFC staredowns feature some of the tensest, anything-could-happen moments in sport.
So, we saw the perfect chance to let the fans experience the same hype, drama and intensity for themselves.
UI ELEMENTS
Creating fight night
We took inspiration from the octagon and the light show on fight night and implemented elements of those into our designs.
The UI elements are clean and simple and subtle UI animations directed the user through each step so the game was easy to understand and simple to play.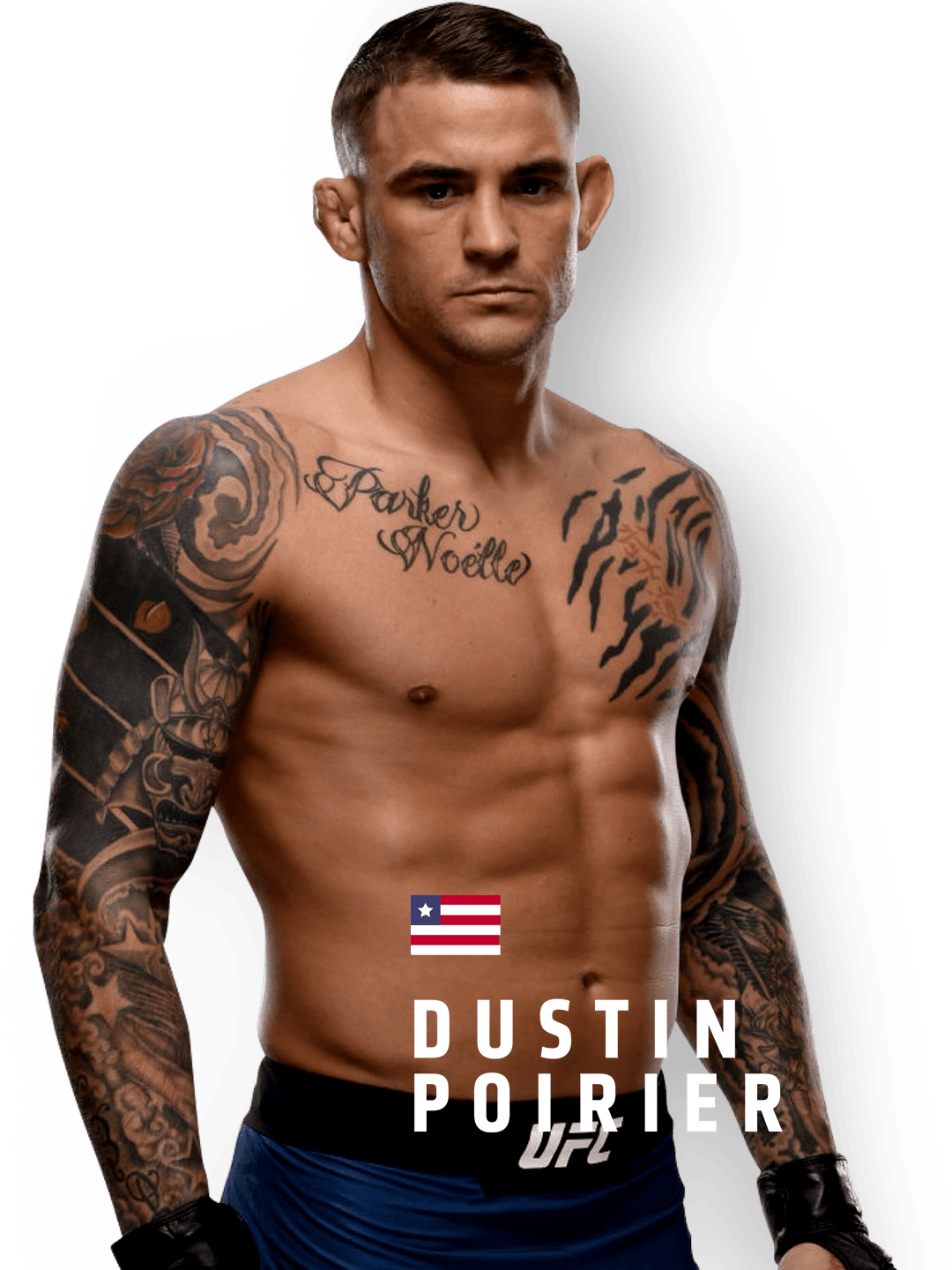 The challenge
If they get angry, you get angry
The game was a simple reaction test. Players had to match and beat their opponent's emotions within a certain time frame to win the staredown. Once they won, they progressed onto a bigger, tougher opponent.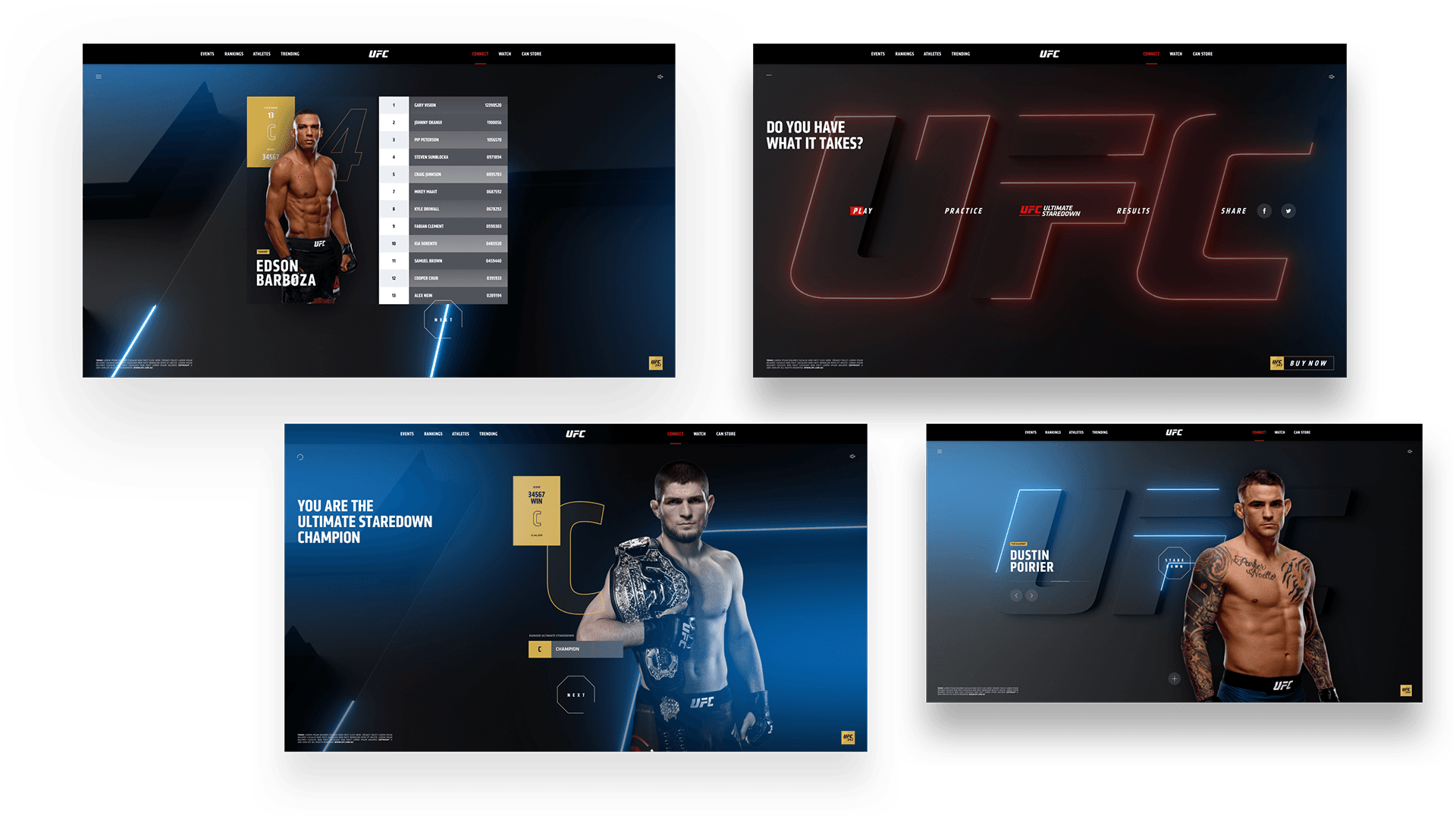 CREATIVE EXECUTION
#ufcstaredown
As fans played the game, their reactions were captured via their camera and turned into time-lapsed gifs that could be shared on social. 
Ai
E-motion technology
We built the game using Microsoft Oxford, an intelligent API that's trained to recognise changes in facial expressions to microscopic proportions. Through this, we could actually measure emotions in order to score the game.
3D Animation
Making a man
Without any footage available, we used advanced animation techniques to turn multiple still images of UFC fighters into living, breathing, digital replicas.
FACE MANIPULATION
Facial expression
Sourcing images from various press releases and events, we created a suite of expressions for each fighter. This involved retouching each face on to the same head and body model - blending the faces to match skin, muscles, shadows and lighting.