Qantas Loyalty
STRATEGY · CREATIVE · DESIGN · MOTION · SOCIAL · DISPLAY · STRATEGY · CREATIVE · DESIGN · MOTION · SOCIAL · DISPLAY · STRATEGY · CREATIVE · DESIGN · MOTION · SOCIAL · DISPLAY · STRATEGY · CREATIVE · DESIGN · MOTION · SOCIAL · DISPLAY · STRATEGY · CREATIVE · DESIGN · MOTION · SOCIAL · DISPLAY · STRATEGY · CREATIVE · DESIGN · MOTION · SOCIAL · DISPLAY · STRATEGY · CREATIVE · DESIGN · MOTION · SOCIAL · DISPLAY · STRATEGY · CREATIVE · DESIGN · MOTION · SOCIAL · DISPLAY · STRATEGY · CREATIVE · DESIGN · MOTION · SOCIAL · DISPLAY · STRATEGY · CREATIVE · DESIGN · MOTION · SOCIAL · DISPLAY · STRATEGY · CREATIVE · DESIGN · MOTION · SOCIAL · DISPLAY · STRATEGY · CREATIVE · DESIGN · MOTION · SOCIAL · DISPLAY · STRATEGY · CREATIVE · DESIGN · MOTION · SOCIAL · DISPLAY · STRATEGY · CREATIVE · DESIGN · MOTION · SOCIAL · DISPLAY · STRATEGY · CREATIVE · DESIGN · MOTION · SOCIAL · DISPLAY · STRATEGY · CREATIVE · DESIGN · MOTION · SOCIAL · DISPLAY · STRATEGY · CREATIVE · DESIGN · MOTION · SOCIAL · DISPLAY · STRATEGY · CREATIVE · DESIGN · MOTION · SOCIAL · DISPLAY · STRATEGY · CREATIVE · DESIGN · MOTION · SOCIAL · DISPLAY · STRATEGY · CREATIVE · DESIGN · MOTION · SOCIAL · DISPLAY · STRATEGY · CREATIVE · DESIGN · MOTION · SOCIAL · DISPLAY · STRATEGY · CREATIVE · DESIGN · MOTION · SOCIAL · DISPLAY · STRATEGY · CREATIVE · DESIGN · MOTION · SOCIAL · DISPLAY · STRATEGY · CREATIVE · DESIGN · MOTION · SOCIAL · DISPLAY · STRATEGY · CREATIVE · DESIGN · MOTION · SOCIAL · DISPLAY · STRATEGY · CREATIVE · DESIGN · MOTION · SOCIAL · DISPLAY · STRATEGY · CREATIVE · DESIGN · MOTION · SOCIAL · DISPLAY · STRATEGY · CREATIVE · DESIGN · MOTION · SOCIAL · DISPLAY · STRATEGY · CREATIVE · DESIGN · MOTION · SOCIAL · DISPLAY · STRATEGY · CREATIVE · DESIGN · MOTION · SOCIAL · DISPLAY · STRATEGY · CREATIVE · DESIGN · MOTION · SOCIAL · DISPLAY · STRATEGY · CREATIVE · DESIGN · MOTION · SOCIAL · DISPLAY · STRATEGY · CREATIVE · DESIGN · MOTION · SOCIAL · DISPLAY · STRATEGY · CREATIVE · DESIGN · MOTION · SOCIAL · DISPLAY · STRATEGY · CREATIVE · DESIGN · MOTION · SOCIAL · DISPLAY · STRATEGY · CREATIVE · DESIGN · MOTION · SOCIAL · DISPLAY · STRATEGY · CREATIVE · DESIGN · MOTION · SOCIAL · DISPLAY · STRATEGY · CREATIVE · DESIGN · MOTION · SOCIAL · DISPLAY · STRATEGY · CREATIVE · DESIGN · MOTION · SOCIAL · DISPLAY · STRATEGY · CREATIVE · DESIGN · MOTION · SOCIAL · DISPLAY · STRATEGY · CREATIVE · DESIGN · MOTION · SOCIAL · DISPLAY · STRATEGY · CREATIVE · DESIGN · MOTION · SOCIAL · DISPLAY · STRATEGY · CREATIVE · DESIGN · MOTION · SOCIAL · DISPLAY · STRATEGY · CREATIVE · DESIGN · MOTION · SOCIAL · DISPLAY · STRATEGY · CREATIVE · DESIGN · MOTION · SOCIAL · DISPLAY · STRATEGY · CREATIVE · DESIGN · MOTION · SOCIAL · DISPLAY · STRATEGY · CREATIVE · DESIGN · MOTION · SOCIAL · DISPLAY · STRATEGY · CREATIVE · DESIGN · MOTION · SOCIAL · DISPLAY · STRATEGY · CREATIVE · DESIGN · MOTION · SOCIAL · DISPLAY · STRATEGY · CREATIVE · DESIGN · MOTION · SOCIAL · DISPLAY · STRATEGY · CREATIVE · DESIGN · MOTION · SOCIAL · DISPLAY · STRATEGY · CREATIVE · DESIGN · MOTION · SOCIAL · DISPLAY · STRATEGY · CREATIVE · DESIGN · MOTION · SOCIAL · DISPLAY · STRATEGY · CREATIVE · DESIGN · MOTION · SOCIAL · DISPLAY · STRATEGY · CREATIVE · DESIGN · MOTION · SOCIAL · DISPLAY · STRATEGY · CREATIVE · DESIGN · MOTION · SOCIAL · DISPLAY · STRATEGY · CREATIVE · DESIGN · MOTION · SOCIAL · DISPLAY · STRATEGY · CREATIVE · DESIGN · MOTION · SOCIAL · DISPLAY · STRATEGY · CREATIVE · DESIGN · MOTION · SOCIAL · DISPLAY · STRATEGY · CREATIVE · DESIGN · MOTION · SOCIAL · DISPLAY · STRATEGY · CREATIVE · DESIGN · MOTION · SOCIAL · DISPLAY · STRATEGY · CREATIVE · DESIGN · MOTION · SOCIAL · DISPLAY · STRATEGY · CREATIVE · DESIGN · MOTION · SOCIAL · DISPLAY · STRATEGY · CREATIVE · DESIGN · MOTION · SOCIAL · DISPLAY · STRATEGY · CREATIVE · DESIGN · MOTION · SOCIAL · DISPLAY · STRATEGY · CREATIVE · DESIGN · MOTION · SOCIAL · DISPLAY · STRATEGY · CREATIVE · DESIGN · MOTION · SOCIAL · DISPLAY · STRATEGY · CREATIVE · DESIGN · MOTION · SOCIAL · DISPLAY · STRATEGY · CREATIVE · DESIGN · MOTION · SOCIAL · DISPLAY · STRATEGY · CREATIVE · DESIGN · MOTION · SOCIAL · DISPLAY · STRATEGY · CREATIVE · DESIGN · MOTION · SOCIAL · DISPLAY · STRATEGY · CREATIVE · DESIGN · MOTION · SOCIAL · DISPLAY · STRATEGY · CREATIVE · DESIGN · MOTION · SOCIAL · DISPLAY · STRATEGY · CREATIVE · DESIGN · MOTION · SOCIAL · DISPLAY · STRATEGY · CREATIVE · DESIGN · MOTION · SOCIAL · DISPLAY · STRATEGY · CREATIVE · DESIGN · MOTION · SOCIAL · DISPLAY · STRATEGY · CREATIVE · DESIGN · MOTION · SOCIAL · DISPLAY · STRATEGY · CREATIVE · DESIGN · MOTION · SOCIAL · DISPLAY · STRATEGY · CREATIVE · DESIGN · MOTION · SOCIAL · DISPLAY · STRATEGY · CREATIVE · DESIGN · MOTION · SOCIAL · DISPLAY · STRATEGY · CREATIVE · DESIGN · MOTION · SOCIAL · DISPLAY · STRATEGY · CREATIVE · DESIGN · MOTION · SOCIAL · DISPLAY · STRATEGY · CREATIVE · DESIGN · MOTION · SOCIAL · DISPLAY · STRATEGY · CREATIVE · DESIGN · MOTION · SOCIAL · DISPLAY · STRATEGY · CREATIVE · DESIGN · MOTION · SOCIAL · DISPLAY · STRATEGY · CREATIVE · DESIGN · MOTION · SOCIAL · DISPLAY · STRATEGY · CREATIVE · DESIGN · MOTION · SOCIAL · DISPLAY · STRATEGY · CREATIVE · DESIGN · MOTION · SOCIAL · DISPLAY · STRATEGY · CREATIVE · DESIGN · MOTION · SOCIAL · DISPLAY · STRATEGY · CREATIVE · DESIGN · MOTION · SOCIAL · DISPLAY · STRATEGY · CREATIVE · DESIGN · MOTION · SOCIAL · DISPLAY · STRATEGY · CREATIVE · DESIGN · MOTION · SOCIAL · DISPLAY · STRATEGY · CREATIVE · DESIGN · MOTION · SOCIAL · DISPLAY · STRATEGY · CREATIVE · DESIGN · MOTION · SOCIAL · DISPLAY · STRATEGY · CREATIVE · DESIGN · MOTION · SOCIAL · DISPLAY · STRATEGY · CREATIVE · DESIGN · MOTION · SOCIAL · DISPLAY · STRATEGY · CREATIVE · DESIGN · MOTION · SOCIAL · DISPLAY · STRATEGY · CREATIVE · DESIGN · MOTION · SOCIAL · DISPLAY · STRATEGY · CREATIVE · DESIGN · MOTION · SOCIAL · DISPLAY · STRATEGY · CREATIVE · DESIGN · MOTION · SOCIAL · DISPLAY ·
THE RELATIONSHIP
A match made in heaven
Since 2015, we've helped Qantas Loyalty maintain their status as one of Australia's most-loved brands. Together we've launched new ventures, reimagined old ones and raised the standards of Qantas' digital creative.
CAMPAIGNS
Health Insurance
As well as defining a premium, yet playful look and feel for Qantas Health Insurance, we've also brought to life several campaigns, including the 3-Day Points Rush, their best-performing sale to date.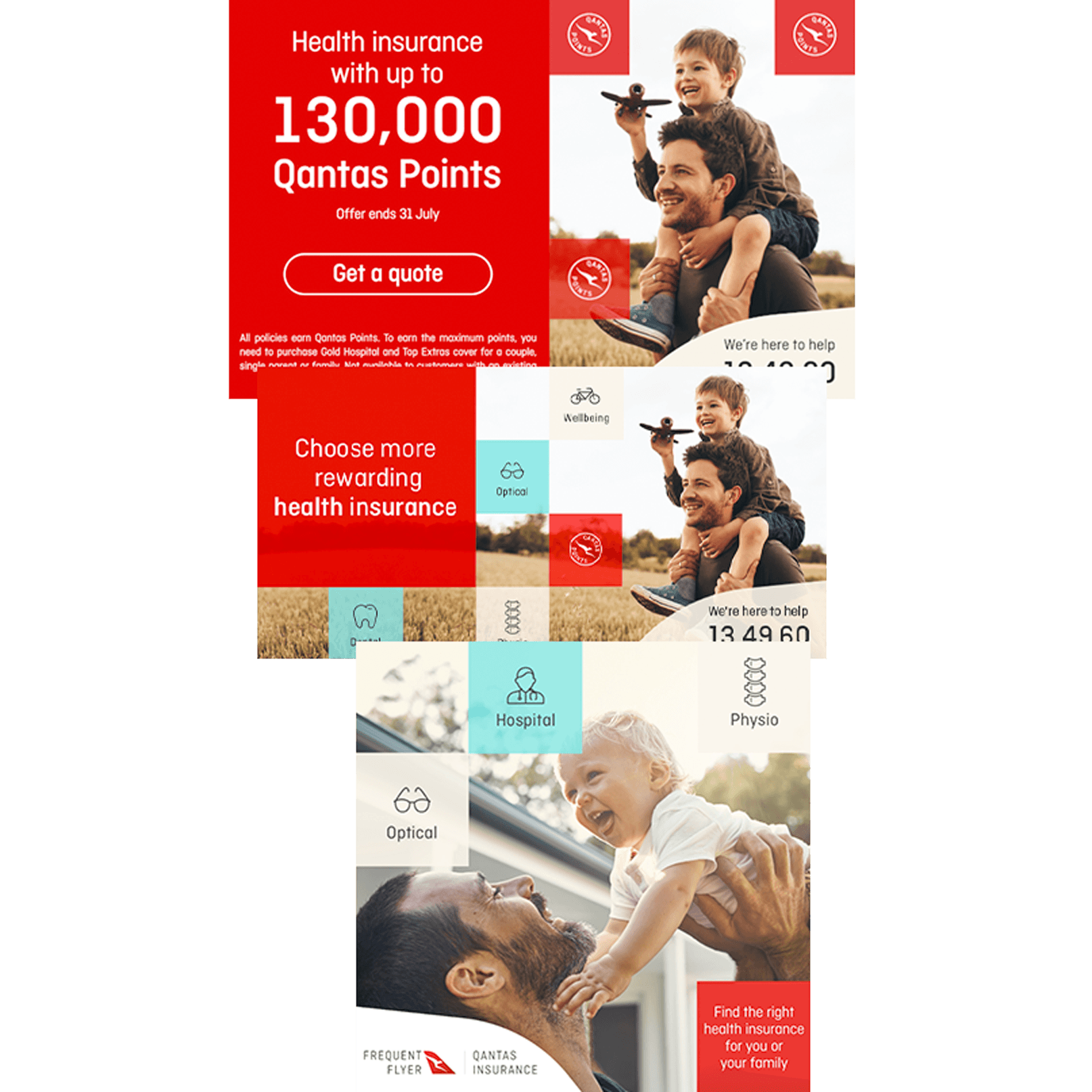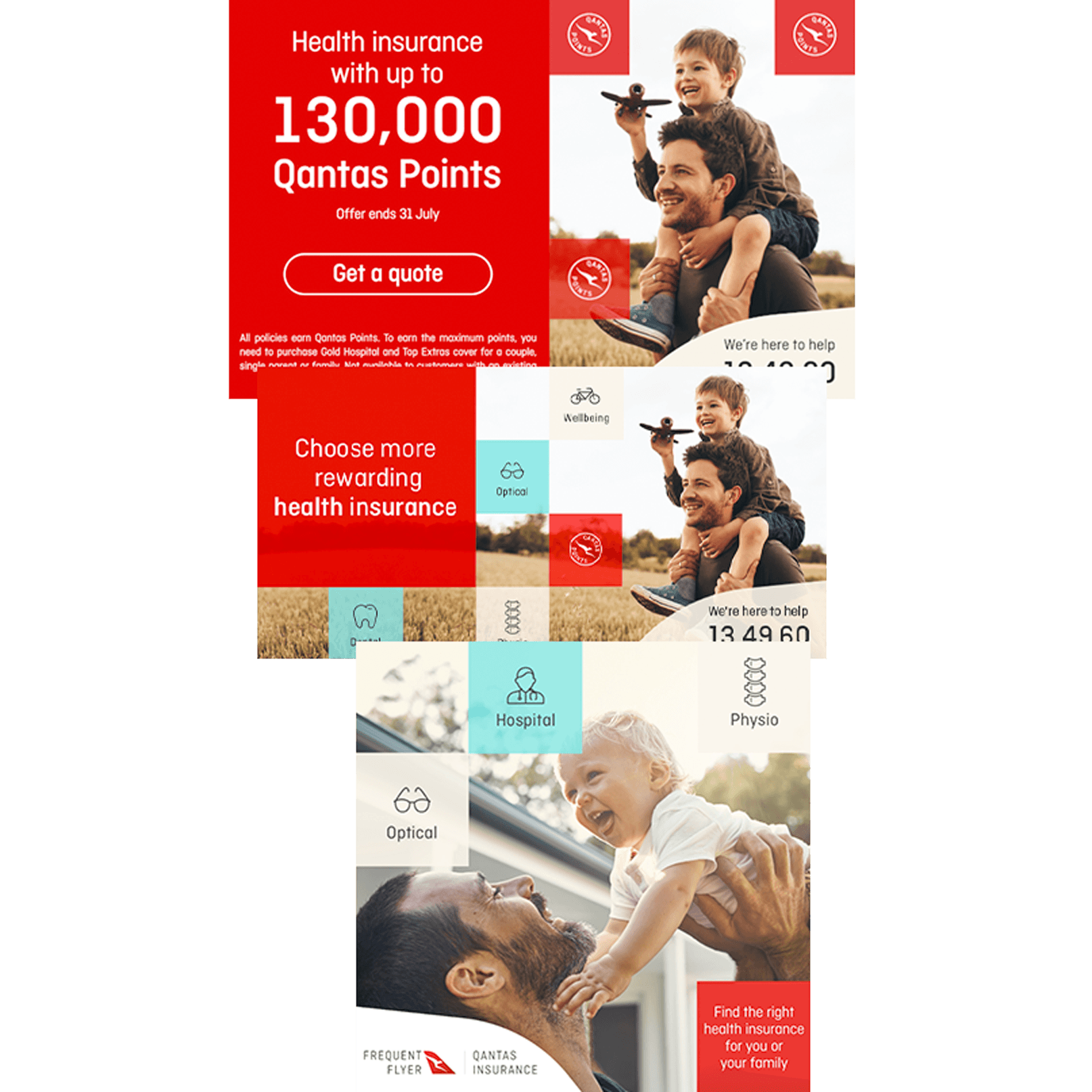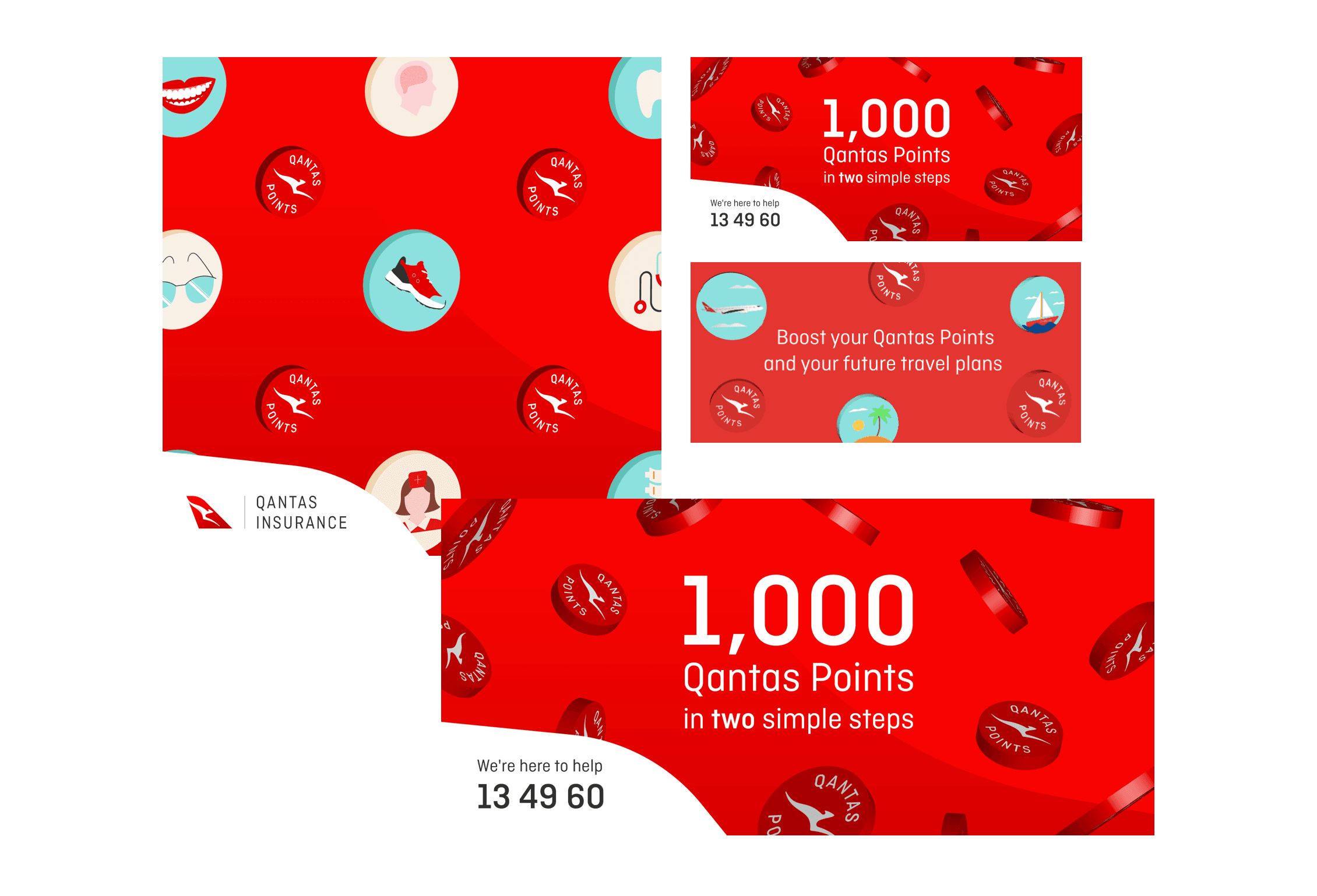 'HOW TO' VIDEO
Qantas Points Prompter
Qantas Shopping had a UX issue that meant their audience were missing out on Qantas Points. They built a browser plug-in to solve this and we stepped in with a script and animations to show people how it all worked.
CAMPAIGNS
Car Insurance
In one of Qantas Loyalty's biggest projects to date, we helped them burst into the world of car insurance by refining their launch creative for digital and crafting a unique look and feel for their EOFY Sale designed to make them stand out.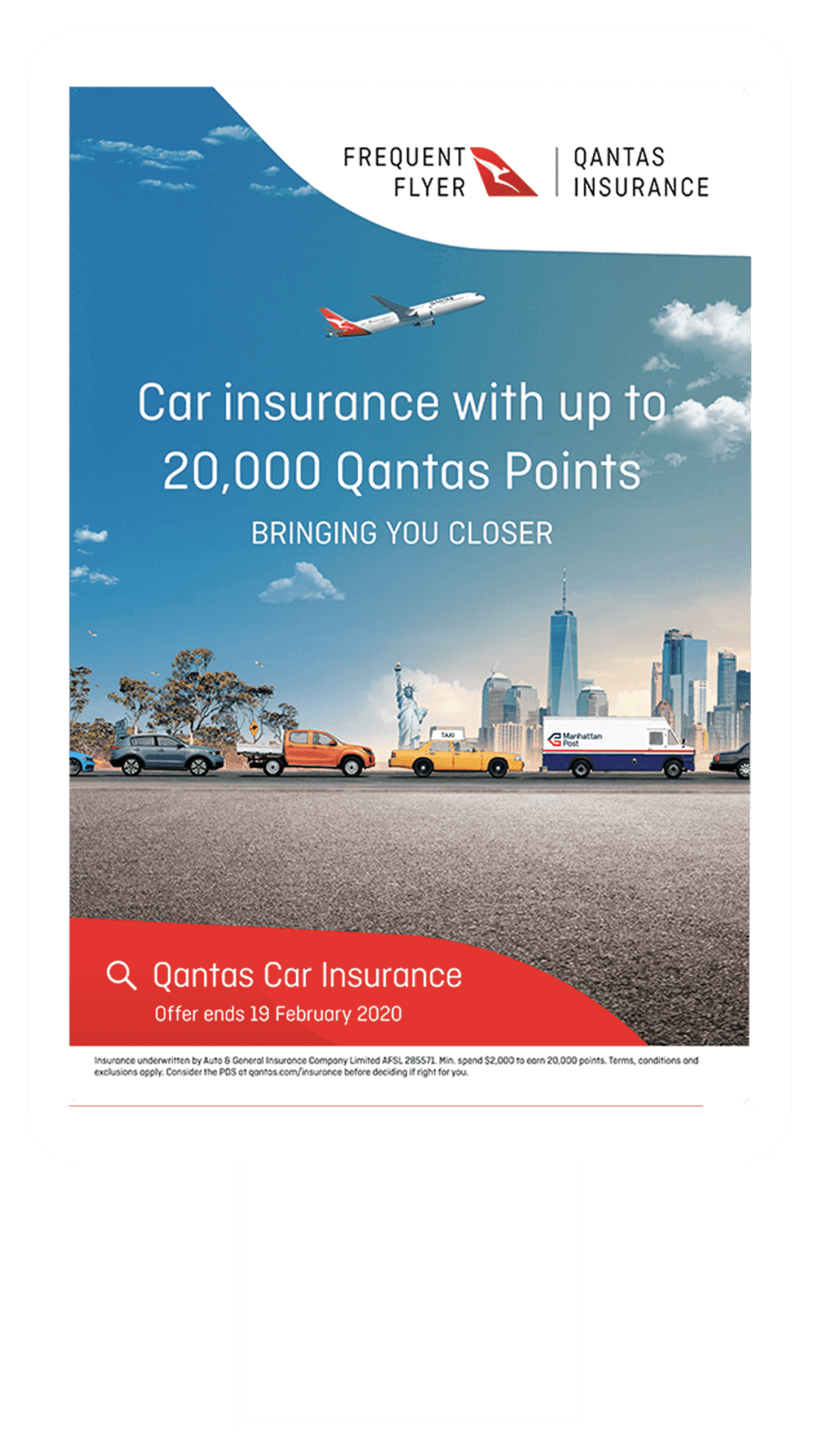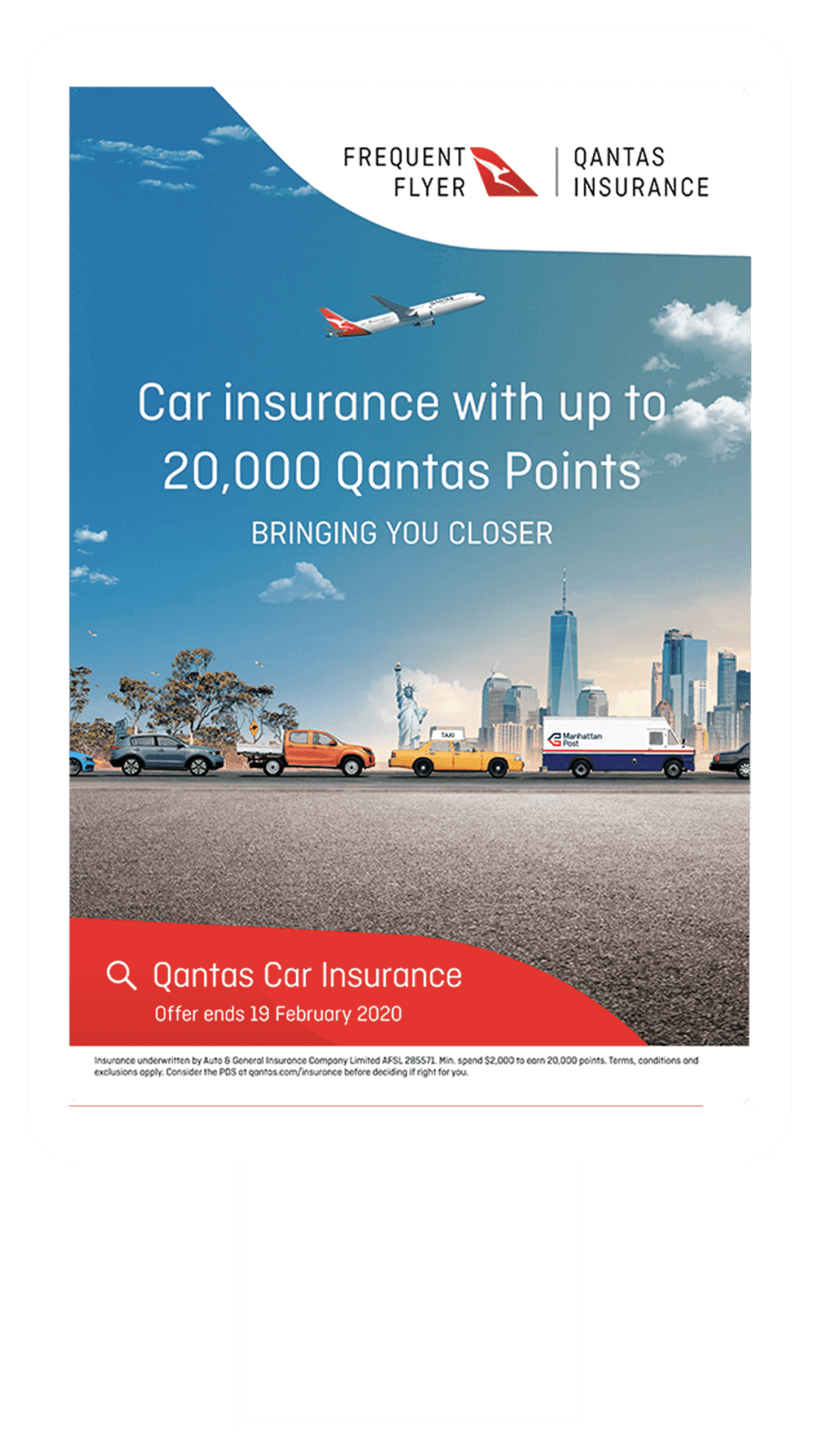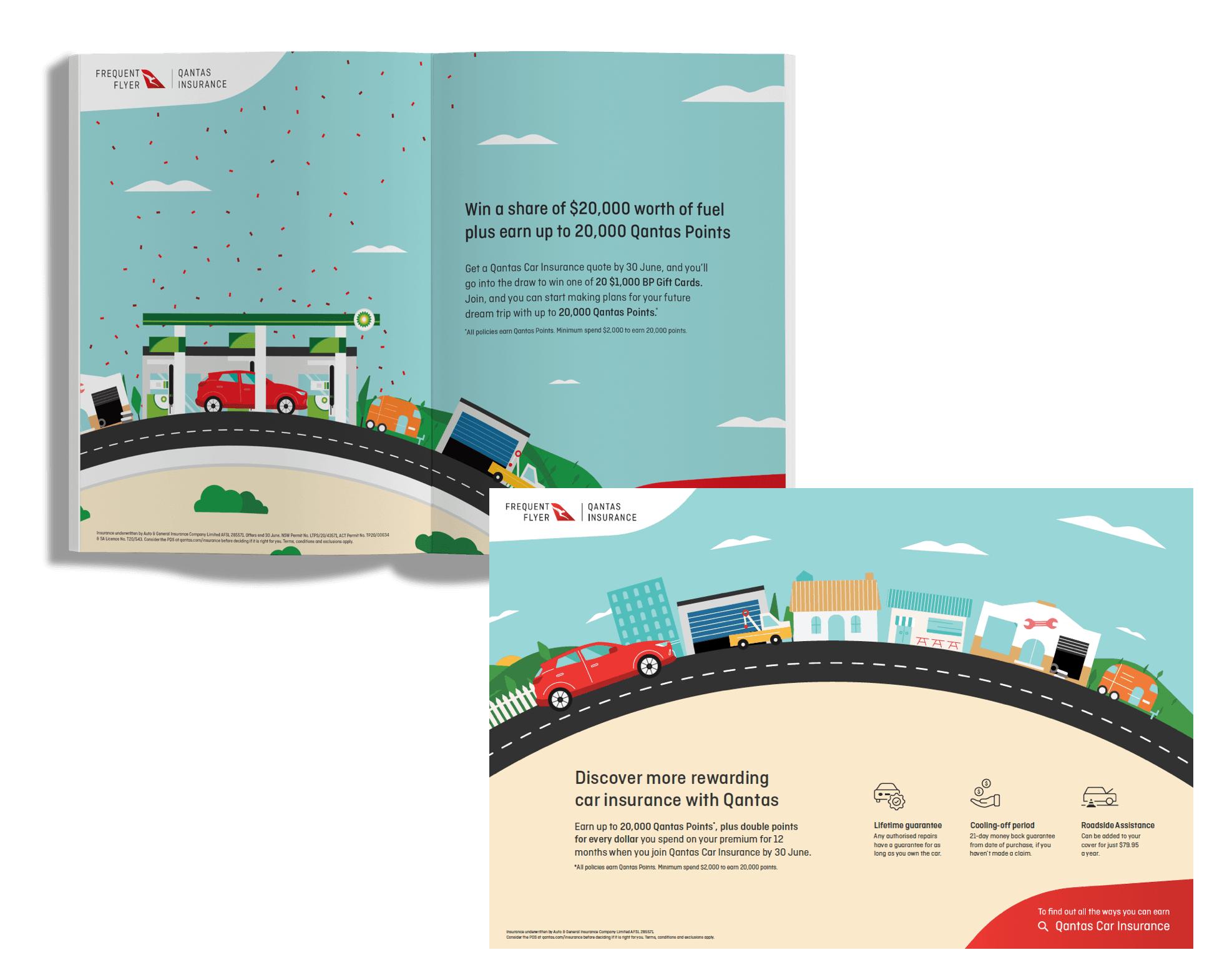 SOCIAL
Insta Fun
Travel is one of the most shareable topics on social. We help Qantas own a part of this space by frequently creating, designing and building stickers, filters and fun tools that their audience can engage with.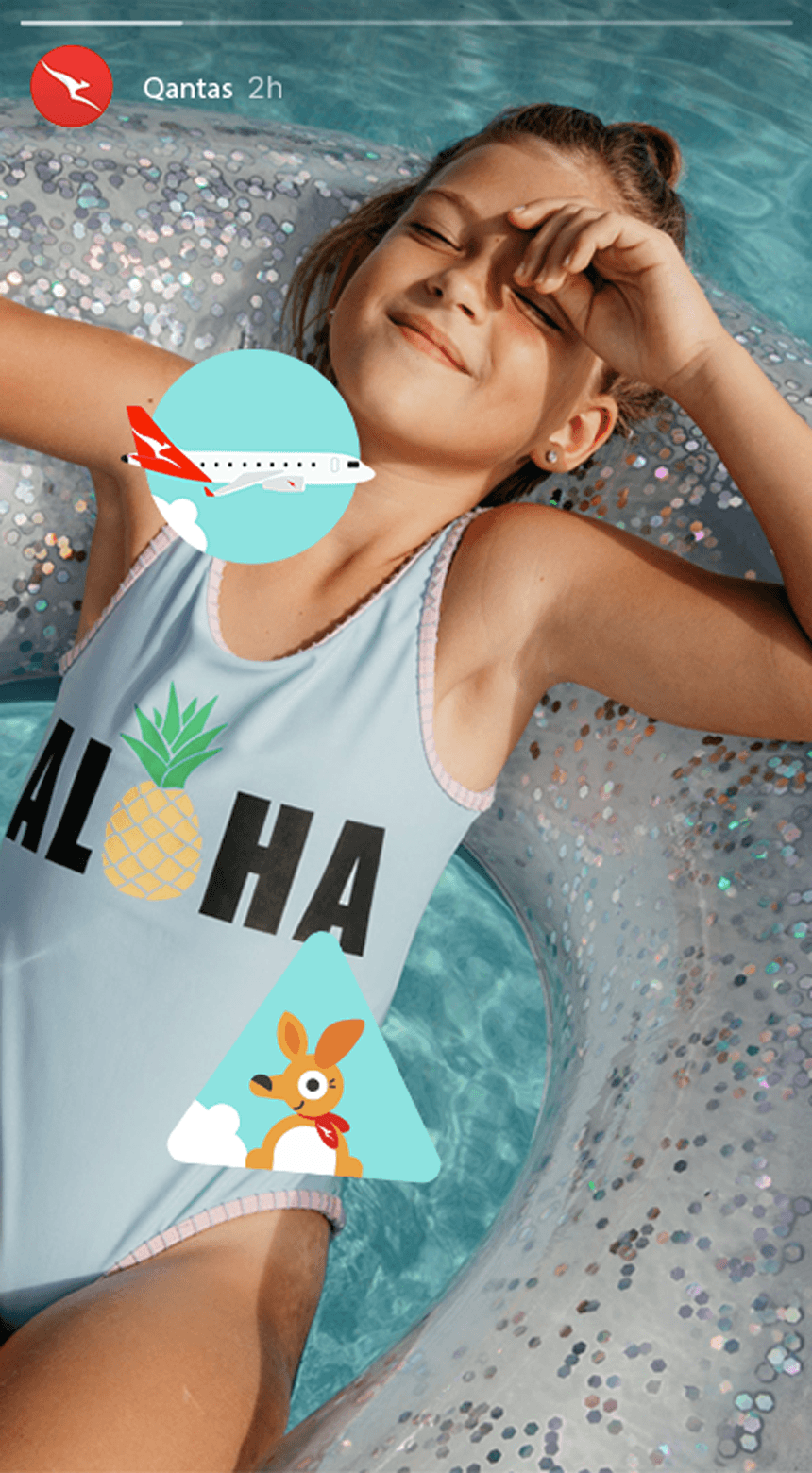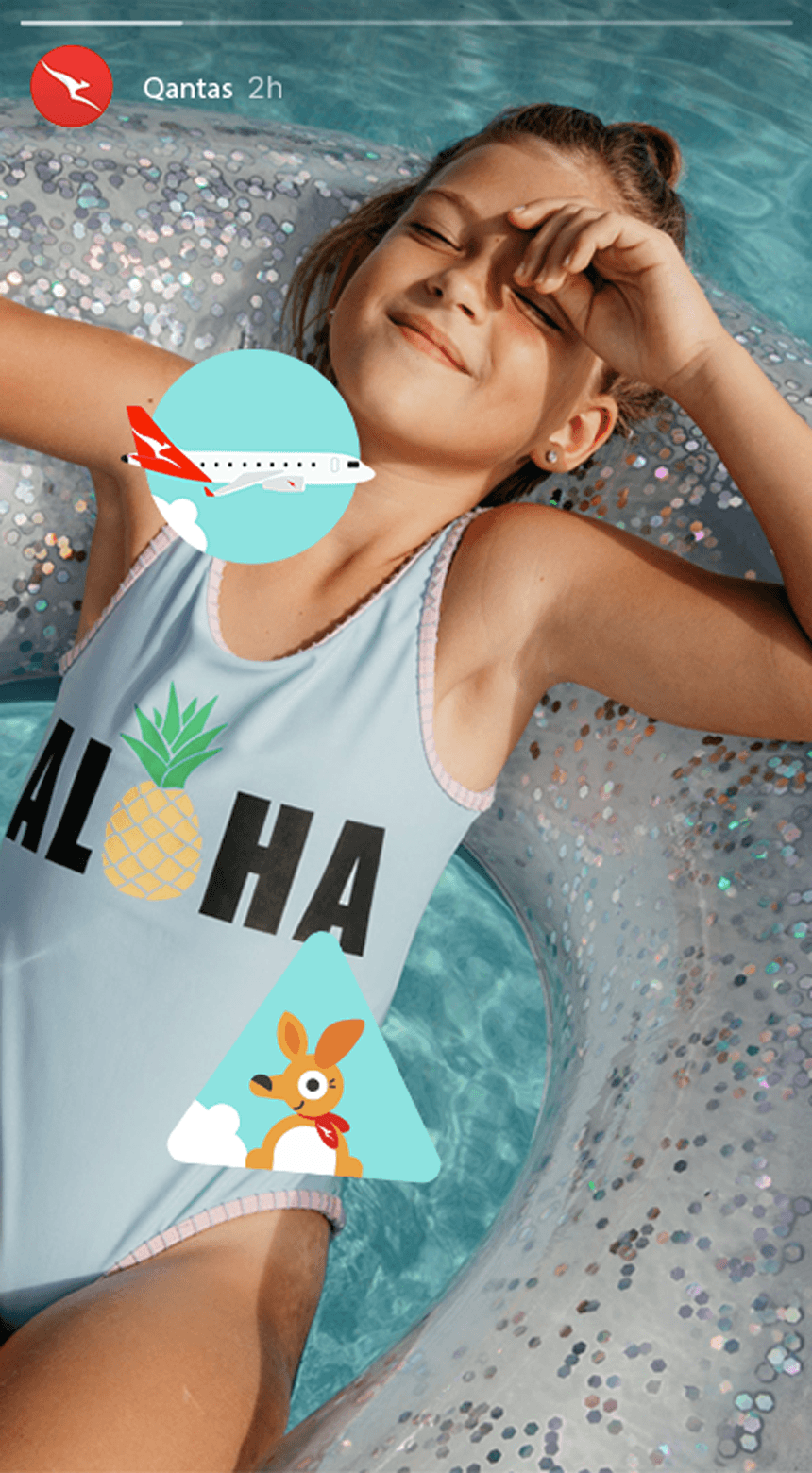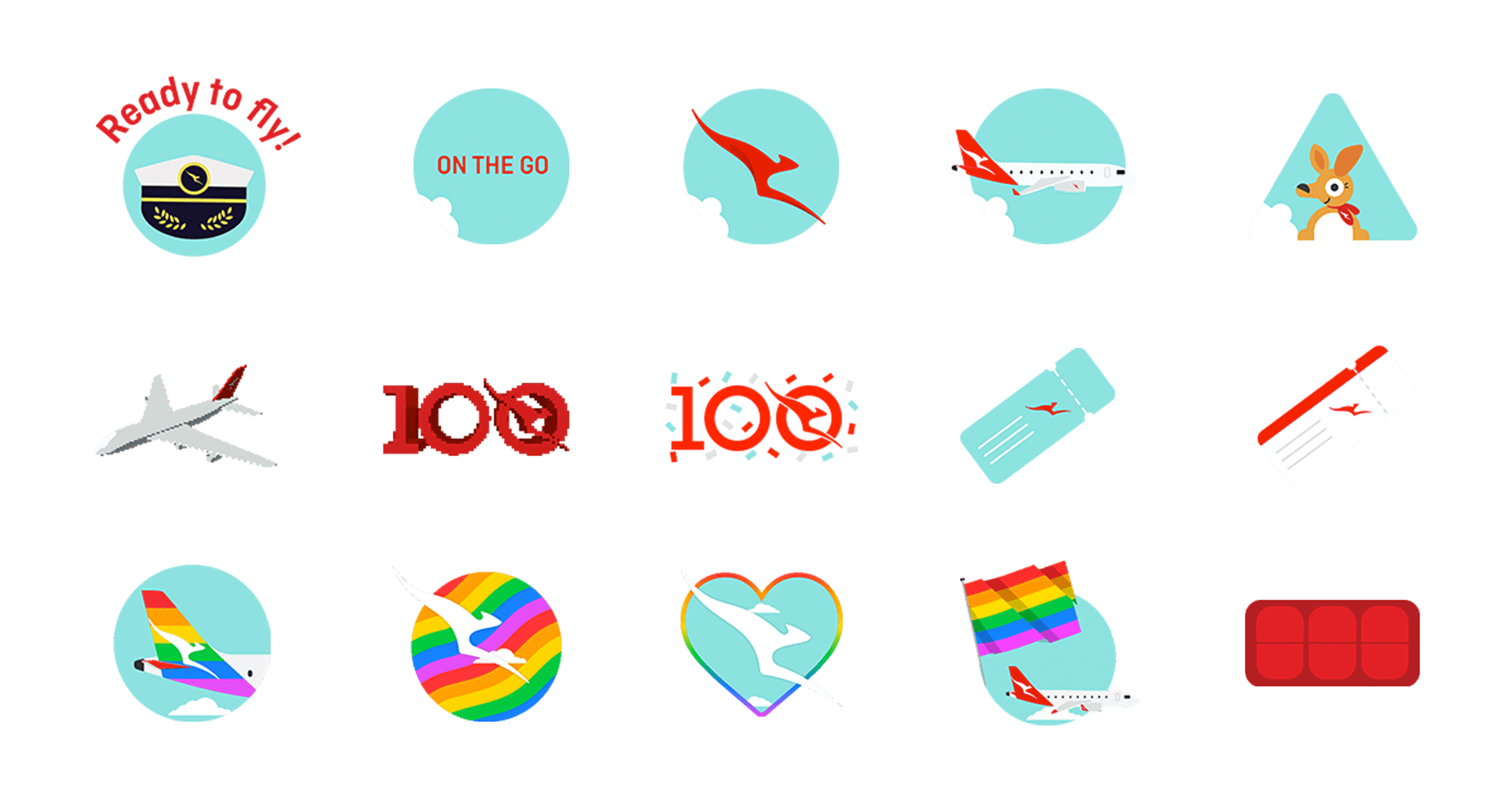 CAMPAIGNS
Qantas Wellbeing
We launched several digital campaigns with Qantas Wellbeing, creating suites of illustrations and animations to inform their members that they had the ability to earn Qantas Points in everyday moments - even in their sleep.
TEMPLATES
Social storytelling
With so many arms to their businesses and with each running coinciding offers, Qantas needed a social template that called out the relevant information, kept the brand's identity at heart and allowed for engaging stories to be told.
'HOW TO' VIDEO
Prepare to fly
Qantas needed a video that informed flyers how to make the most of the cutting-edge tech in their terminals. However, not every airport had the same technology, so we created a modular video that could be easily adapted for any airport.