Live Noble
Design · Branding · Motion · Social · Creative · Design · Branding · Motion · Social · Creative · Design · Branding · Motion · Social · Creative · Design · Branding · Motion · Social · Creative · Design · Branding · Motion · Social · Creative · Design · Branding · Motion · Social · Creative · Design · Branding · Motion · Social · Creative · Design · Branding · Motion · Social · Creative · Design · Branding · Motion · Social · Creative · Design · Branding · Motion · Social · Creative · Design · Branding · Motion · Social · Creative · Design · Branding · Motion · Social · Creative · Design · Branding · Motion · Social · Creative · Design · Branding · Motion · Social · Creative · Design · Branding · Motion · Social · Creative · Design · Branding · Motion · Social · Creative · Design · Branding · Motion · Social · Creative · Design · Branding · Motion · Social · Creative · Design · Branding · Motion · Social · Creative · Design · Branding · Motion · Social · Creative · Design · Branding · Motion · Social · Creative · Design · Branding · Motion · Social · Creative · Design · Branding · Motion · Social · Creative · Design · Branding · Motion · Social · Creative · Design · Branding · Motion · Social · Creative · Design · Branding · Motion · Social · Creative · Design · Branding · Motion · Social · Creative · Design · Branding · Motion · Social · Creative · Design · Branding · Motion · Social · Creative · Design · Branding · Motion · Social · Creative · Design · Branding · Motion · Social · Creative · Design · Branding · Motion · Social · Creative · Design · Branding · Motion · Social · Creative · Design · Branding · Motion · Social · Creative · Design · Branding · Motion · Social · Creative · Design · Branding · Motion · Social · Creative · Design · Branding · Motion · Social · Creative · Design · Branding · Motion · Social · Creative · Design · Branding · Motion · Social · Creative · Design · Branding · Motion · Social · Creative · Design · Branding · Motion · Social · Creative · Design · Branding · Motion · Social · Creative · Design · Branding · Motion · Social · Creative · Design · Branding · Motion · Social · Creative · Design · Branding · Motion · Social · Creative · Design · Branding · Motion · Social · Creative · Design · Branding · Motion · Social · Creative · Design · Branding · Motion · Social · Creative · Design · Branding · Motion · Social · Creative · Design · Branding · Motion · Social · Creative · Design · Branding · Motion · Social · Creative · Design · Branding · Motion · Social · Creative · Design · Branding · Motion · Social · Creative · Design · Branding · Motion · Social · Creative · Design · Branding · Motion · Social · Creative · Design · Branding · Motion · Social · Creative · Design · Branding · Motion · Social · Creative · Design · Branding · Motion · Social · Creative · Design · Branding · Motion · Social · Creative · Design · Branding · Motion · Social · Creative · Design · Branding · Motion · Social · Creative · Design · Branding · Motion · Social · Creative · Design · Branding · Motion · Social · Creative · Design · Branding · Motion · Social · Creative · Design · Branding · Motion · Social · Creative · Design · Branding · Motion · Social · Creative · Design · Branding · Motion · Social · Creative · Design · Branding · Motion · Social · Creative · Design · Branding · Motion · Social · Creative · Design · Branding · Motion · Social · Creative · Design · Branding · Motion · Social · Creative · Design · Branding · Motion · Social · Creative · Design · Branding · Motion · Social · Creative · Design · Branding · Motion · Social · Creative · Design · Branding · Motion · Social · Creative · Design · Branding · Motion · Social · Creative · Design · Branding · Motion · Social · Creative · Design · Branding · Motion · Social · Creative · Design · Branding · Motion · Social · Creative · Design · Branding · Motion · Social · Creative · Design · Branding · Motion · Social · Creative · Design · Branding · Motion · Social · Creative · Design · Branding · Motion · Social · Creative · Design · Branding · Motion · Social · Creative · Design · Branding · Motion · Social · Creative · Design · Branding · Motion · Social · Creative · Design · Branding · Motion · Social · Creative · Design · Branding · Motion · Social · Creative · Design · Branding · Motion · Social · Creative · Design · Branding · Motion · Social · Creative · Design · Branding · Motion · Social · Creative · Design · Branding · Motion · Social · Creative · Design · Branding · Motion · Social · Creative · Design · Branding · Motion · Social · Creative · Design · Branding · Motion · Social · Creative · Design · Branding · Motion · Social · Creative · Design · Branding · Motion · Social · Creative · Design · Branding · Motion · Social · Creative · Design · Branding · Motion · Social · Creative · Design · Branding · Motion · Social · Creative ·
The Background
Where it all started
In 2019, Noble Fellows invited various agencies to pitch a new brand platform strategy and idea that would resonate with younger wine drinkers. Our concept, 'Live Noble', won the pitch and was turned into a fully fledged campaign that created great results.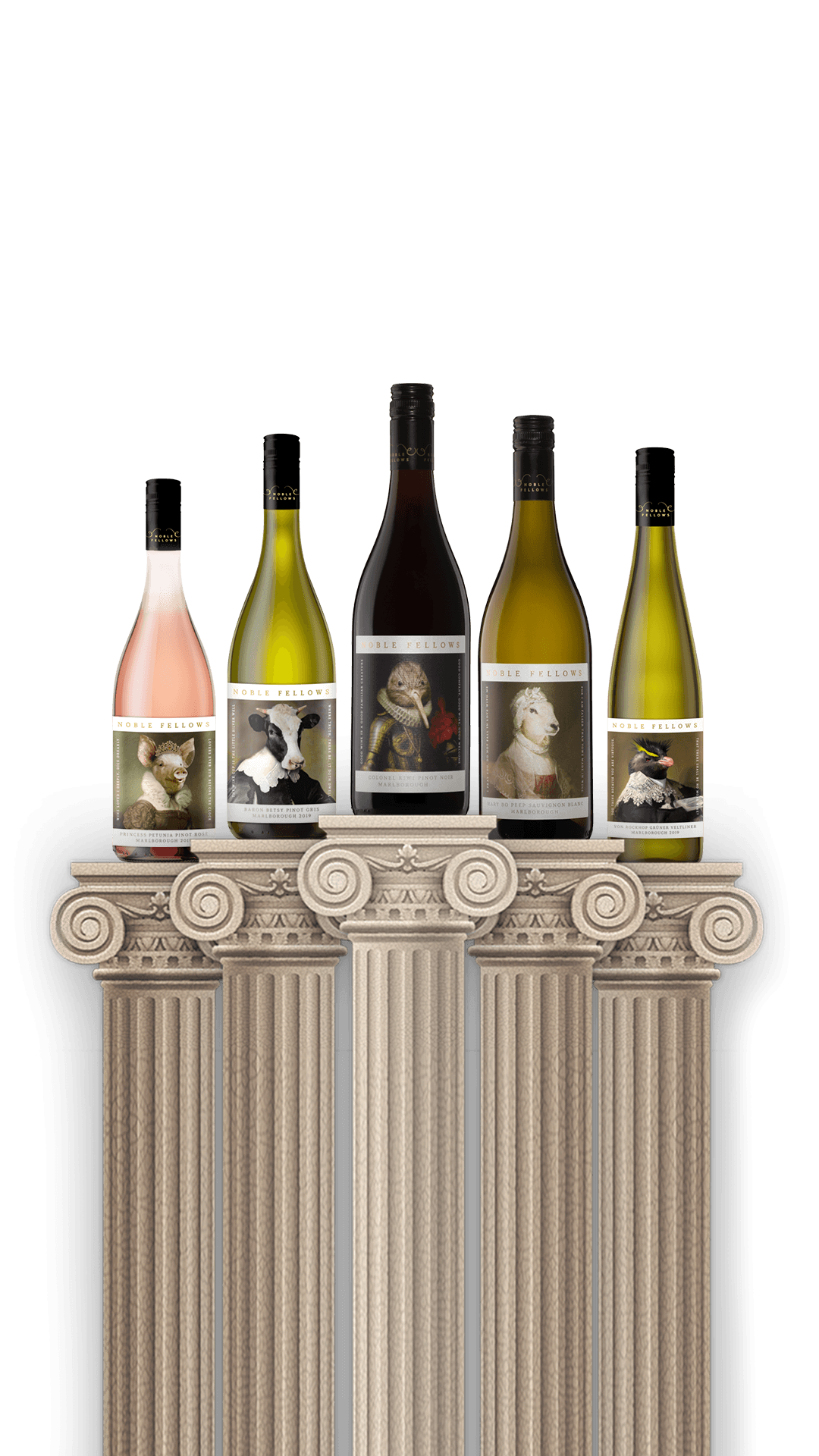 What's the occasion?
Live Noble
Our campaign encouraged young Australians to make any occasion a little more noble by pairing it with a wine from the Noble Fellows range. We ramped up the brand's Shakespearean tone of voice to resonate with a younger audience, using the brand's quirky characters to introduce people to the beautiful world of wine.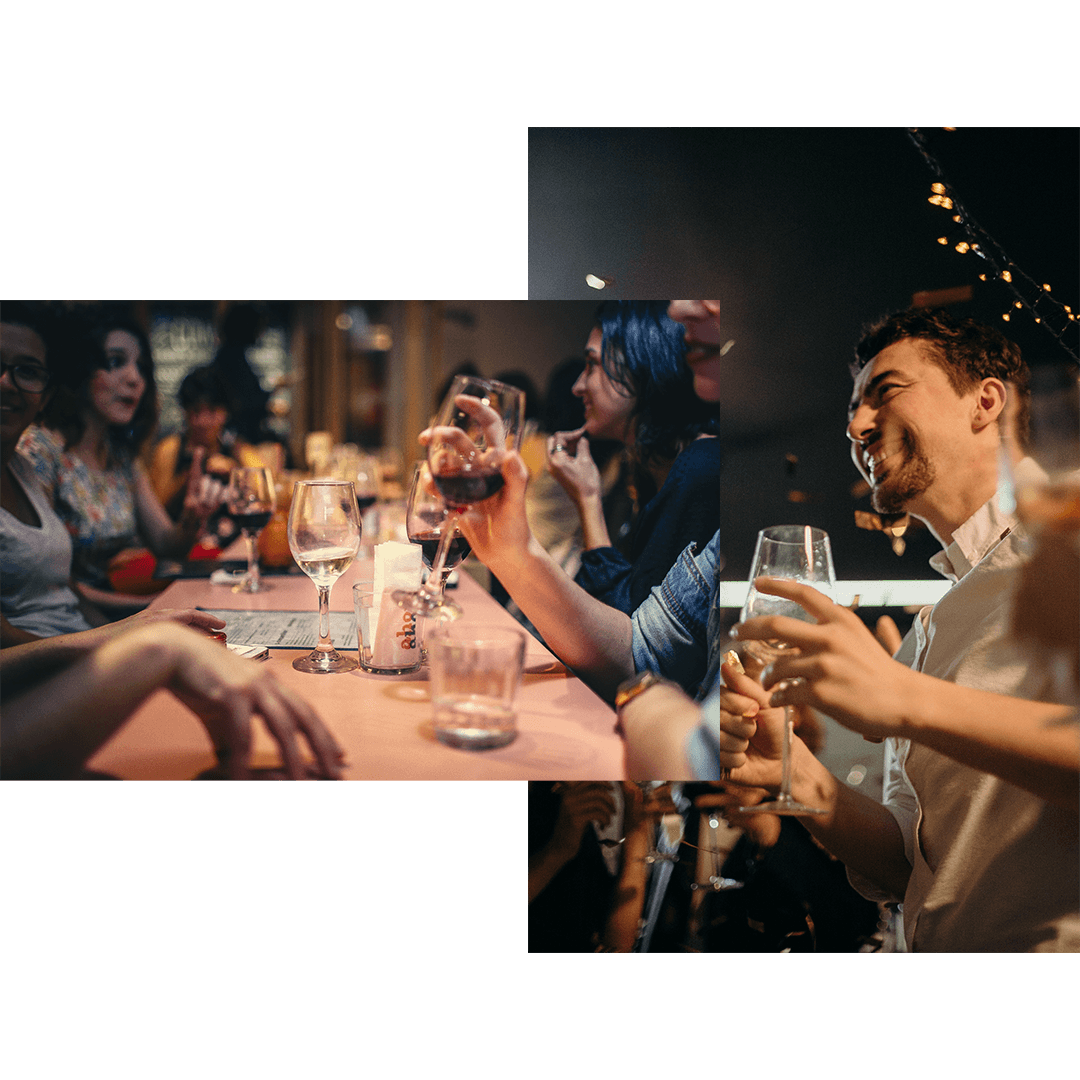 Like a sir (or madam!)
Introduciiiiiing
To launch the Live Noble brand platform, we created a swanky online video that used a Monty Python-esque animation style to bring the brand to life.
Nice enough to be in a museum
Social
To inspire people to start their wine adventure, we created noble social videos for Instagram, Instagram Stories and Facebook. Each featured a different wine variant and its corresponding Noble Fellows character. Inspired!
The Art of Sound
Spotify
What better platform to tap into moods than Spotify? We used its dynamic features to run targeted spots based on location, weather and mood, pairing different outcomes with different wines. Have a listen!
smells like rich mahogany
In-store posters
Lost in the bottle shop? Fear not! Noble Fellows is here to guide you. We created in-store posters to help those new to the wine world find their perfect pairing. How noble!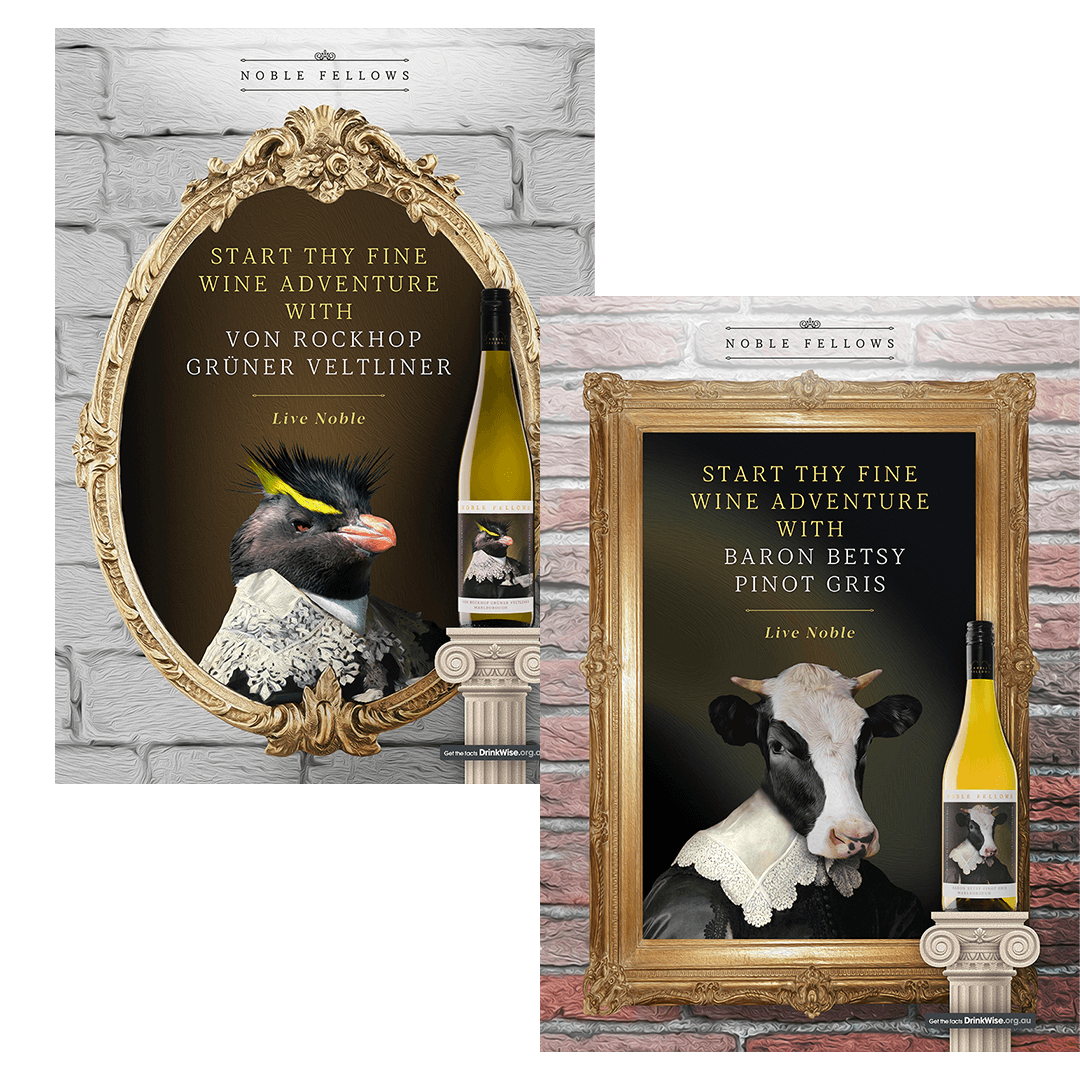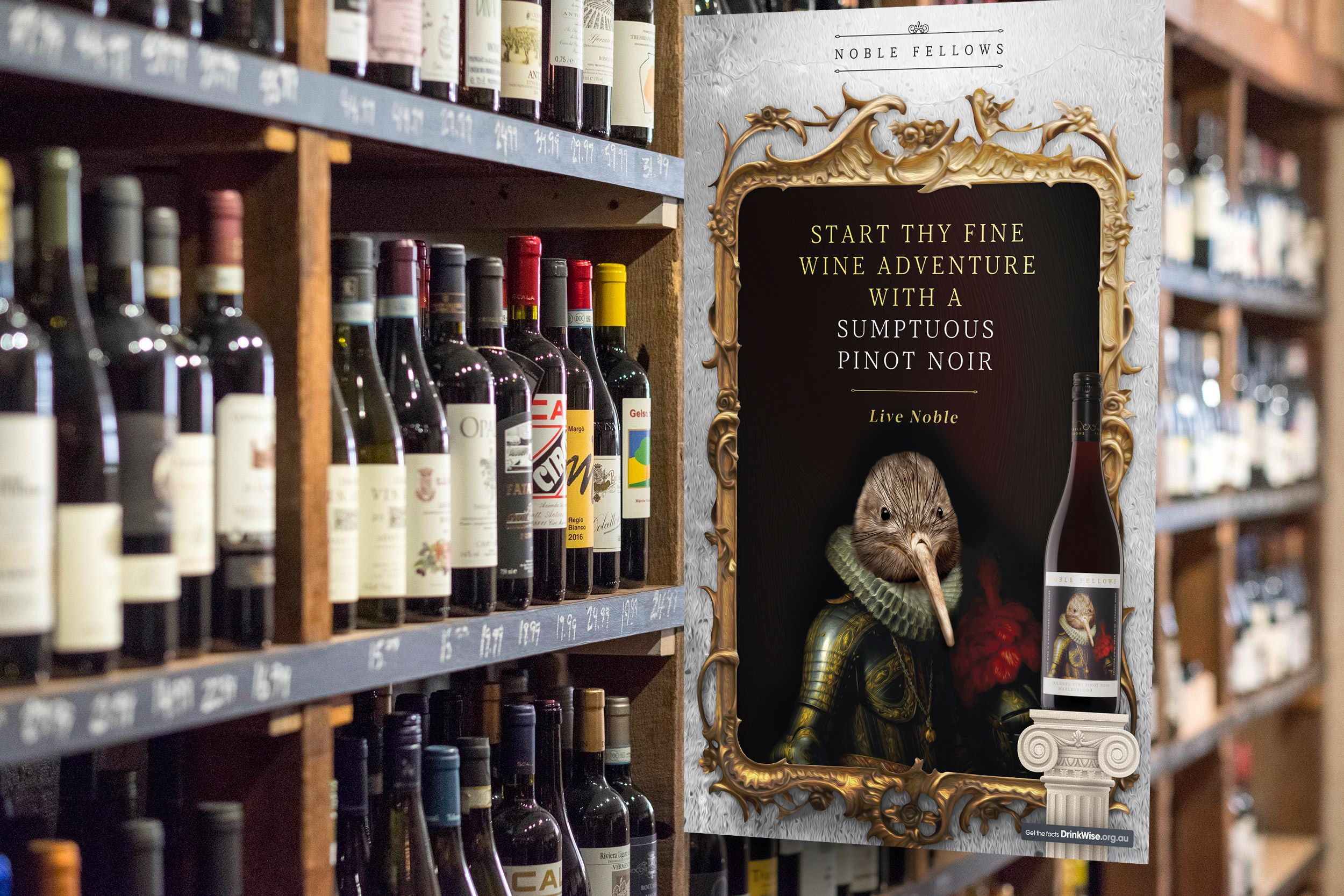 For the people
Community management
We took over the Noble Fellows social media accounts and created a robust content calendar with four content pillars. Everything we posted tapped into an audience insight or time of the year. We used the post copy to really ham up the Shakespearian tone, with our audience even commenting in the same style!
ladies and gentlemen
Influencer marketing
We handled the influencer marketing side, too – from briefing the influencers to making sure all posts were on tone and in line with the Live Noble campaign.