Get Sunny stoked
CREATIVE · UX · UI · MOTION · DEVELOPMENT · CREATIVE · UX · UI · MOTION · DEVELOPMENT · CREATIVE · UX · UI · MOTION · DEVELOPMENT · CREATIVE · UX · UI · MOTION · DEVELOPMENT · CREATIVE · UX · UI · MOTION · DEVELOPMENT · CREATIVE · UX · UI · MOTION · DEVELOPMENT · CREATIVE · UX · UI · MOTION · DEVELOPMENT · CREATIVE · UX · UI · MOTION · DEVELOPMENT · CREATIVE · UX · UI · MOTION · DEVELOPMENT · CREATIVE · UX · UI · MOTION · DEVELOPMENT · CREATIVE · UX · UI · MOTION · DEVELOPMENT · CREATIVE · UX · UI · MOTION · DEVELOPMENT · CREATIVE · UX · UI · MOTION · DEVELOPMENT · CREATIVE · UX · UI · MOTION · DEVELOPMENT · CREATIVE · UX · UI · MOTION · DEVELOPMENT · CREATIVE · UX · UI · MOTION · DEVELOPMENT · CREATIVE · UX · UI · MOTION · DEVELOPMENT · CREATIVE · UX · UI · MOTION · DEVELOPMENT · CREATIVE · UX · UI · MOTION · DEVELOPMENT · CREATIVE · UX · UI · MOTION · DEVELOPMENT · CREATIVE · UX · UI · MOTION · DEVELOPMENT · CREATIVE · UX · UI · MOTION · DEVELOPMENT · CREATIVE · UX · UI · MOTION · DEVELOPMENT · CREATIVE · UX · UI · MOTION · DEVELOPMENT · CREATIVE · UX · UI · MOTION · DEVELOPMENT · CREATIVE · UX · UI · MOTION · DEVELOPMENT · CREATIVE · UX · UI · MOTION · DEVELOPMENT · CREATIVE · UX · UI · MOTION · DEVELOPMENT · CREATIVE · UX · UI · MOTION · DEVELOPMENT · CREATIVE · UX · UI · MOTION · DEVELOPMENT · CREATIVE · UX · UI · MOTION · DEVELOPMENT · CREATIVE · UX · UI · MOTION · DEVELOPMENT · CREATIVE · UX · UI · MOTION · DEVELOPMENT · CREATIVE · UX · UI · MOTION · DEVELOPMENT · CREATIVE · UX · UI · MOTION · DEVELOPMENT · CREATIVE · UX · UI · MOTION · DEVELOPMENT · CREATIVE · UX · UI · MOTION · DEVELOPMENT · CREATIVE · UX · UI · MOTION · DEVELOPMENT · CREATIVE · UX · UI · MOTION · DEVELOPMENT · CREATIVE · UX · UI · MOTION · DEVELOPMENT · CREATIVE · UX · UI · MOTION · DEVELOPMENT · CREATIVE · UX · UI · MOTION · DEVELOPMENT · CREATIVE · UX · UI · MOTION · DEVELOPMENT · CREATIVE · UX · UI · MOTION · DEVELOPMENT · CREATIVE · UX · UI · MOTION · DEVELOPMENT · CREATIVE · UX · UI · MOTION · DEVELOPMENT · CREATIVE · UX · UI · MOTION · DEVELOPMENT · CREATIVE · UX · UI · MOTION · DEVELOPMENT · CREATIVE · UX · UI · MOTION · DEVELOPMENT · CREATIVE · UX · UI · MOTION · DEVELOPMENT · CREATIVE · UX · UI · MOTION · DEVELOPMENT · CREATIVE · UX · UI · MOTION · DEVELOPMENT · CREATIVE · UX · UI · MOTION · DEVELOPMENT · CREATIVE · UX · UI · MOTION · DEVELOPMENT · CREATIVE · UX · UI · MOTION · DEVELOPMENT · CREATIVE · UX · UI · MOTION · DEVELOPMENT · CREATIVE · UX · UI · MOTION · DEVELOPMENT · CREATIVE · UX · UI · MOTION · DEVELOPMENT · CREATIVE · UX · UI · MOTION · DEVELOPMENT · CREATIVE · UX · UI · MOTION · DEVELOPMENT · CREATIVE · UX · UI · MOTION · DEVELOPMENT · CREATIVE · UX · UI · MOTION · DEVELOPMENT · CREATIVE · UX · UI · MOTION · DEVELOPMENT · CREATIVE · UX · UI · MOTION · DEVELOPMENT · CREATIVE · UX · UI · MOTION · DEVELOPMENT · CREATIVE · UX · UI · MOTION · DEVELOPMENT · CREATIVE · UX · UI · MOTION · DEVELOPMENT · CREATIVE · UX · UI · MOTION · DEVELOPMENT · CREATIVE · UX · UI · MOTION · DEVELOPMENT · CREATIVE · UX · UI · MOTION · DEVELOPMENT · CREATIVE · UX · UI · MOTION · DEVELOPMENT · CREATIVE · UX · UI · MOTION · DEVELOPMENT · CREATIVE · UX · UI · MOTION · DEVELOPMENT · CREATIVE · UX · UI · MOTION · DEVELOPMENT · CREATIVE · UX · UI · MOTION · DEVELOPMENT · CREATIVE · UX · UI · MOTION · DEVELOPMENT · CREATIVE · UX · UI · MOTION · DEVELOPMENT · CREATIVE · UX · UI · MOTION · DEVELOPMENT · CREATIVE · UX · UI · MOTION · DEVELOPMENT · CREATIVE · UX · UI · MOTION · DEVELOPMENT · CREATIVE · UX · UI · MOTION · DEVELOPMENT · CREATIVE · UX · UI · MOTION · DEVELOPMENT · CREATIVE · UX · UI · MOTION · DEVELOPMENT · CREATIVE · UX · UI · MOTION · DEVELOPMENT · CREATIVE · UX · UI · MOTION · DEVELOPMENT · CREATIVE · UX · UI · MOTION · DEVELOPMENT · CREATIVE · UX · UI · MOTION · DEVELOPMENT · CREATIVE · UX · UI · MOTION · DEVELOPMENT · CREATIVE · UX · UI · MOTION · DEVELOPMENT · CREATIVE · UX · UI · MOTION · DEVELOPMENT · CREATIVE · UX · UI · MOTION · DEVELOPMENT · CREATIVE · UX · UI · MOTION · DEVELOPMENT · CREATIVE · UX · UI · MOTION · DEVELOPMENT · CREATIVE · UX · UI · MOTION · DEVELOPMENT · CREATIVE · UX · UI · MOTION · DEVELOPMENT · CREATIVE · UX · UI · MOTION · DEVELOPMENT · CREATIVE · UX · UI · MOTION · DEVELOPMENT · CREATIVE · UX · UI · MOTION · DEVELOPMENT · CREATIVE · UX · UI · MOTION · DEVELOPMENT · CREATIVE · UX · UI · MOTION · DEVELOPMENT ·
THE BRIEF
Money with Sunny
In 2018, Suncorp launched their new brand platform featuring their lighthearted little ambassador, Sunny. They reached out to us to help introduce her whilst increasing foot traffic in their new flagship store in Sydney.
The idea
A stylish new space
The new store was fitted with cutting-edge technology that included huge curved screens and touch-sensitive panels. We used these screens to promote Suncorp offers featuring animated visuals of Sunny and quirky headlines.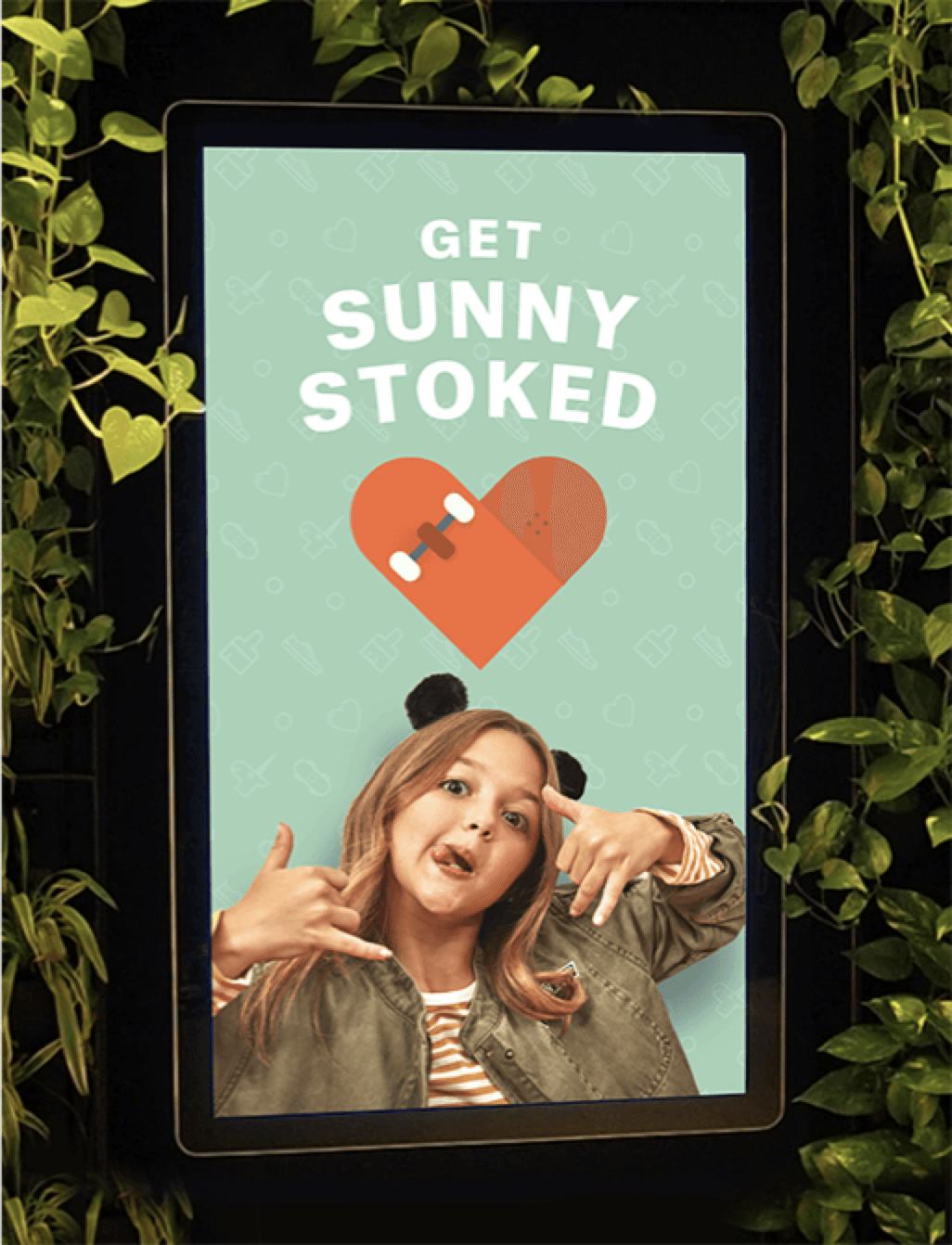 COMPETITION
Hit the decks
To increase in-store engagement, we developed an interactive game which let people design their own skateboard using stickers from global street artist, Le Grizz. The best 10 would be judged by Sunny herself and physically made as prizes.