Cancer Affects Everyone
Strategy · Creative · Design · TVC · Social · Strategy · Creative · Design · TVC · Social · Strategy · Creative · Design · TVC · Social · Strategy · Creative · Design · TVC · Social · Strategy · Creative · Design · TVC · Social · Strategy · Creative · Design · TVC · Social · Strategy · Creative · Design · TVC · Social · Strategy · Creative · Design · TVC · Social · Strategy · Creative · Design · TVC · Social · Strategy · Creative · Design · TVC · Social · Strategy · Creative · Design · TVC · Social · Strategy · Creative · Design · TVC · Social · Strategy · Creative · Design · TVC · Social · Strategy · Creative · Design · TVC · Social · Strategy · Creative · Design · TVC · Social · Strategy · Creative · Design · TVC · Social · Strategy · Creative · Design · TVC · Social · Strategy · Creative · Design · TVC · Social · Strategy · Creative · Design · TVC · Social · Strategy · Creative · Design · TVC · Social · Strategy · Creative · Design · TVC · Social · Strategy · Creative · Design · TVC · Social · Strategy · Creative · Design · TVC · Social · Strategy · Creative · Design · TVC · Social · Strategy · Creative · Design · TVC · Social · Strategy · Creative · Design · TVC · Social · Strategy · Creative · Design · TVC · Social · Strategy · Creative · Design · TVC · Social · Strategy · Creative · Design · TVC · Social · Strategy · Creative · Design · TVC · Social · Strategy · Creative · Design · TVC · Social · Strategy · Creative · Design · TVC · Social · Strategy · Creative · Design · TVC · Social · Strategy · Creative · Design · TVC · Social · Strategy · Creative · Design · TVC · Social · Strategy · Creative · Design · TVC · Social · Strategy · Creative · Design · TVC · Social · Strategy · Creative · Design · TVC · Social · Strategy · Creative · Design · TVC · Social · Strategy · Creative · Design · TVC · Social · Strategy · Creative · Design · TVC · Social · Strategy · Creative · Design · TVC · Social · Strategy · Creative · Design · TVC · Social · Strategy · Creative · Design · TVC · Social · Strategy · Creative · Design · TVC · Social · Strategy · Creative · Design · TVC · Social · Strategy · Creative · Design · TVC · Social · Strategy · Creative · Design · TVC · Social · Strategy · Creative · Design · TVC · Social · Strategy · Creative · Design · TVC · Social · Strategy · Creative · Design · TVC · Social · Strategy · Creative · Design · TVC · Social · Strategy · Creative · Design · TVC · Social · Strategy · Creative · Design · TVC · Social · Strategy · Creative · Design · TVC · Social · Strategy · Creative · Design · TVC · Social · Strategy · Creative · Design · TVC · Social · Strategy · Creative · Design · TVC · Social · Strategy · Creative · Design · TVC · Social · Strategy · Creative · Design · TVC · Social · Strategy · Creative · Design · TVC · Social · Strategy · Creative · Design · TVC · Social · Strategy · Creative · Design · TVC · Social · Strategy · Creative · Design · TVC · Social · Strategy · Creative · Design · TVC · Social · Strategy · Creative · Design · TVC · Social · Strategy · Creative · Design · TVC · Social · Strategy · Creative · Design · TVC · Social · Strategy · Creative · Design · TVC · Social · Strategy · Creative · Design · TVC · Social · Strategy · Creative · Design · TVC · Social · Strategy · Creative · Design · TVC · Social · Strategy · Creative · Design · TVC · Social · Strategy · Creative · Design · TVC · Social · Strategy · Creative · Design · TVC · Social · Strategy · Creative · Design · TVC · Social · Strategy · Creative · Design · TVC · Social · Strategy · Creative · Design · TVC · Social · Strategy · Creative · Design · TVC · Social · Strategy · Creative · Design · TVC · Social · Strategy · Creative · Design · TVC · Social · Strategy · Creative · Design · TVC · Social · Strategy · Creative · Design · TVC · Social · Strategy · Creative · Design · TVC · Social · Strategy · Creative · Design · TVC · Social · Strategy · Creative · Design · TVC · Social · Strategy · Creative · Design · TVC · Social · Strategy · Creative · Design · TVC · Social · Strategy · Creative · Design · TVC · Social · Strategy · Creative · Design · TVC · Social · Strategy · Creative · Design · TVC · Social · Strategy · Creative · Design · TVC · Social · Strategy · Creative · Design · TVC · Social · Strategy · Creative · Design · TVC · Social · Strategy · Creative · Design · TVC · Social · Strategy · Creative · Design · TVC · Social · Strategy · Creative · Design · TVC · Social · Strategy · Creative · Design · TVC · Social · Strategy · Creative · Design · TVC · Social · Strategy · Creative · Design · TVC · Social ·
THE BACKGROUND
A charity raises their voice
Redkite is an Australian charity that helps families and friends affected by childhood cancer, with mental health, financial and practical support.To raise awareness, we created an integrated brand campaign, 'Childhood Cancer Affects Everyone', to demonstrate just how much of an impact cancer has on everyone involved.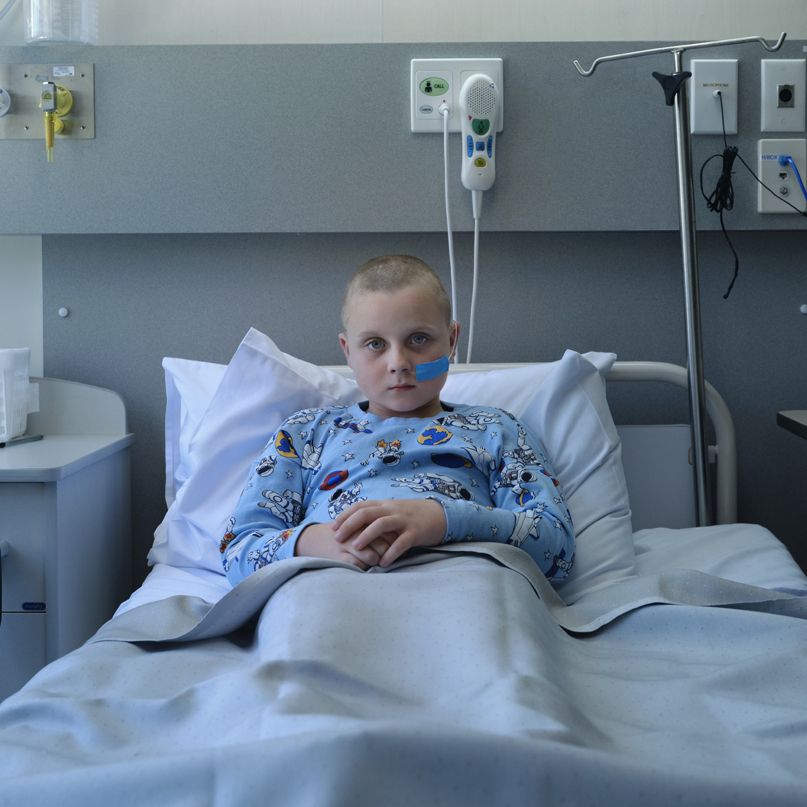 The Idea
A family's hidden struggle
Centred around a little boy with cancer, our campaign brings the personal struggles of his family to the forefront. We produced one 60-second and four 30-second spots that hero the mother, sister, father and grandfather. Internal dialogue gives the viewer an intimate window into the challenges each family member faces.
THE SOUND OF CHILDHOOD CANCER
Radio
Instead of focusing on 'the reveal', we used the audio environment of radio to create a ripple effect story of a family struggling with childhood cancer, with each member adding their own line to the story.
Real stories
OOH
Hard-hitting quotes based on real member stories became the centrepiece for OOH.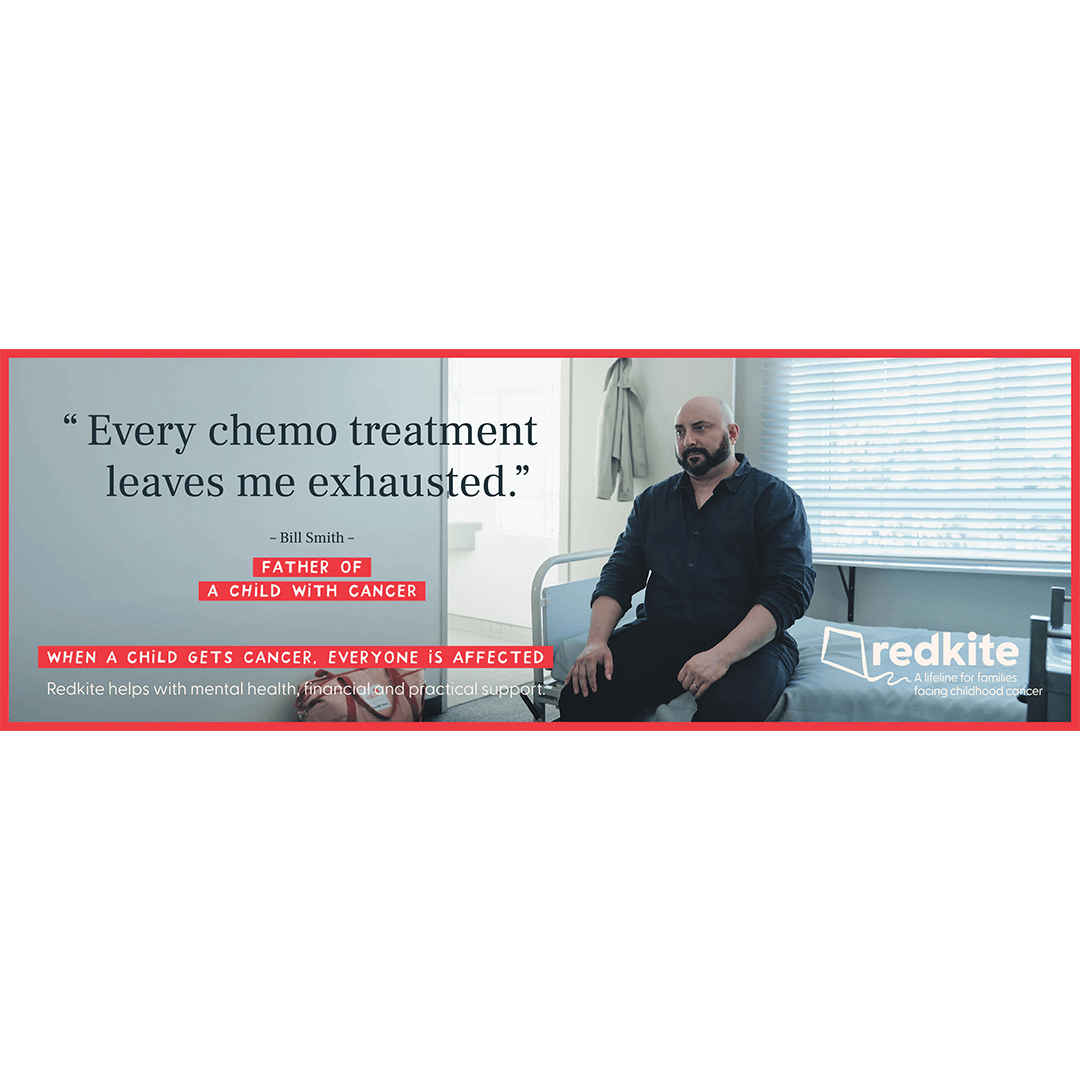 Spread the word
Social
Along with our quotes, we also created a post where everyone affected by our little boy's diagnosis is tagged in his picture - from his soccer club to his friends to his family members.
A BIG REVEAL IN A TINY SPACE
Digital display
Our family told their story through digital display, too, with animation helping to reveal the twist in our protagonists' stories.