Uluru 24 Hours
STRATEGY · CREATIVE · UX · UI · SHOOT · DEVELOPMENT · STRATEGY · CREATIVE · UX · UI · SHOOT · DEVELOPMENT · STRATEGY · CREATIVE · UX · UI · SHOOT · DEVELOPMENT · STRATEGY · CREATIVE · UX · UI · SHOOT · DEVELOPMENT · STRATEGY · CREATIVE · UX · UI · SHOOT · DEVELOPMENT · STRATEGY · CREATIVE · UX · UI · SHOOT · DEVELOPMENT · STRATEGY · CREATIVE · UX · UI · SHOOT · DEVELOPMENT · STRATEGY · CREATIVE · UX · UI · SHOOT · DEVELOPMENT · STRATEGY · CREATIVE · UX · UI · SHOOT · DEVELOPMENT · STRATEGY · CREATIVE · UX · UI · SHOOT · DEVELOPMENT · STRATEGY · CREATIVE · UX · UI · SHOOT · DEVELOPMENT · STRATEGY · CREATIVE · UX · UI · SHOOT · DEVELOPMENT · STRATEGY · CREATIVE · UX · UI · SHOOT · DEVELOPMENT · STRATEGY · CREATIVE · UX · UI · SHOOT · DEVELOPMENT · STRATEGY · CREATIVE · UX · UI · SHOOT · DEVELOPMENT · STRATEGY · CREATIVE · UX · UI · SHOOT · DEVELOPMENT · STRATEGY · CREATIVE · UX · UI · SHOOT · DEVELOPMENT · STRATEGY · CREATIVE · UX · UI · SHOOT · DEVELOPMENT · STRATEGY · CREATIVE · UX · UI · SHOOT · DEVELOPMENT · STRATEGY · CREATIVE · UX · UI · SHOOT · DEVELOPMENT · STRATEGY · CREATIVE · UX · UI · SHOOT · DEVELOPMENT · STRATEGY · CREATIVE · UX · UI · SHOOT · DEVELOPMENT · STRATEGY · CREATIVE · UX · UI · SHOOT · DEVELOPMENT · STRATEGY · CREATIVE · UX · UI · SHOOT · DEVELOPMENT · STRATEGY · CREATIVE · UX · UI · SHOOT · DEVELOPMENT · STRATEGY · CREATIVE · UX · UI · SHOOT · DEVELOPMENT · STRATEGY · CREATIVE · UX · UI · SHOOT · DEVELOPMENT · STRATEGY · CREATIVE · UX · UI · SHOOT · DEVELOPMENT · STRATEGY · CREATIVE · UX · UI · SHOOT · DEVELOPMENT · STRATEGY · CREATIVE · UX · UI · SHOOT · DEVELOPMENT · STRATEGY · CREATIVE · UX · UI · SHOOT · DEVELOPMENT · STRATEGY · CREATIVE · UX · UI · SHOOT · DEVELOPMENT · STRATEGY · CREATIVE · UX · UI · SHOOT · DEVELOPMENT · STRATEGY · CREATIVE · UX · UI · SHOOT · DEVELOPMENT · STRATEGY · CREATIVE · UX · UI · SHOOT · DEVELOPMENT · STRATEGY · CREATIVE · UX · UI · SHOOT · DEVELOPMENT · STRATEGY · CREATIVE · UX · UI · SHOOT · DEVELOPMENT · STRATEGY · CREATIVE · UX · UI · SHOOT · DEVELOPMENT · STRATEGY · CREATIVE · UX · UI · SHOOT · DEVELOPMENT · STRATEGY · CREATIVE · UX · UI · SHOOT · DEVELOPMENT · STRATEGY · CREATIVE · UX · UI · SHOOT · DEVELOPMENT · STRATEGY · CREATIVE · UX · UI · SHOOT · DEVELOPMENT · STRATEGY · CREATIVE · UX · UI · SHOOT · DEVELOPMENT · STRATEGY · CREATIVE · UX · UI · SHOOT · DEVELOPMENT · STRATEGY · CREATIVE · UX · UI · SHOOT · DEVELOPMENT · STRATEGY · CREATIVE · UX · UI · SHOOT · DEVELOPMENT · STRATEGY · CREATIVE · UX · UI · SHOOT · DEVELOPMENT · STRATEGY · CREATIVE · UX · UI · SHOOT · DEVELOPMENT · STRATEGY · CREATIVE · UX · UI · SHOOT · DEVELOPMENT · STRATEGY · CREATIVE · UX · UI · SHOOT · DEVELOPMENT · STRATEGY · CREATIVE · UX · UI · SHOOT · DEVELOPMENT · STRATEGY · CREATIVE · UX · UI · SHOOT · DEVELOPMENT · STRATEGY · CREATIVE · UX · UI · SHOOT · DEVELOPMENT · STRATEGY · CREATIVE · UX · UI · SHOOT · DEVELOPMENT · STRATEGY · CREATIVE · UX · UI · SHOOT · DEVELOPMENT · STRATEGY · CREATIVE · UX · UI · SHOOT · DEVELOPMENT · STRATEGY · CREATIVE · UX · UI · SHOOT · DEVELOPMENT · STRATEGY · CREATIVE · UX · UI · SHOOT · DEVELOPMENT · STRATEGY · CREATIVE · UX · UI · SHOOT · DEVELOPMENT · STRATEGY · CREATIVE · UX · UI · SHOOT · DEVELOPMENT · STRATEGY · CREATIVE · UX · UI · SHOOT · DEVELOPMENT · STRATEGY · CREATIVE · UX · UI · SHOOT · DEVELOPMENT · STRATEGY · CREATIVE · UX · UI · SHOOT · DEVELOPMENT · STRATEGY · CREATIVE · UX · UI · SHOOT · DEVELOPMENT · STRATEGY · CREATIVE · UX · UI · SHOOT · DEVELOPMENT · STRATEGY · CREATIVE · UX · UI · SHOOT · DEVELOPMENT · STRATEGY · CREATIVE · UX · UI · SHOOT · DEVELOPMENT · STRATEGY · CREATIVE · UX · UI · SHOOT · DEVELOPMENT · STRATEGY · CREATIVE · UX · UI · SHOOT · DEVELOPMENT · STRATEGY · CREATIVE · UX · UI · SHOOT · DEVELOPMENT · STRATEGY · CREATIVE · UX · UI · SHOOT · DEVELOPMENT · STRATEGY · CREATIVE · UX · UI · SHOOT · DEVELOPMENT · STRATEGY · CREATIVE · UX · UI · SHOOT · DEVELOPMENT · STRATEGY · CREATIVE · UX · UI · SHOOT · DEVELOPMENT · STRATEGY · CREATIVE · UX · UI · SHOOT · DEVELOPMENT · STRATEGY · CREATIVE · UX · UI · SHOOT · DEVELOPMENT · STRATEGY · CREATIVE · UX · UI · SHOOT · DEVELOPMENT · STRATEGY · CREATIVE · UX · UI · SHOOT · DEVELOPMENT · STRATEGY · CREATIVE · UX · UI · SHOOT · DEVELOPMENT · STRATEGY · CREATIVE · UX · UI · SHOOT · DEVELOPMENT · STRATEGY · CREATIVE · UX · UI · SHOOT · DEVELOPMENT · STRATEGY · CREATIVE · UX · UI · SHOOT · DEVELOPMENT · STRATEGY · CREATIVE · UX · UI · SHOOT · DEVELOPMENT · STRATEGY · CREATIVE · UX · UI · SHOOT · DEVELOPMENT · STRATEGY · CREATIVE · UX · UI · SHOOT · DEVELOPMENT · STRATEGY · CREATIVE · UX · UI · SHOOT · DEVELOPMENT · STRATEGY · CREATIVE · UX · UI · SHOOT · DEVELOPMENT · STRATEGY · CREATIVE · UX · UI · SHOOT · DEVELOPMENT · STRATEGY · CREATIVE · UX · UI · SHOOT · DEVELOPMENT · STRATEGY · CREATIVE · UX · UI · SHOOT · DEVELOPMENT · STRATEGY · CREATIVE · UX · UI · SHOOT · DEVELOPMENT · STRATEGY · CREATIVE · UX · UI · SHOOT · DEVELOPMENT · STRATEGY · CREATIVE · UX · UI · SHOOT · DEVELOPMENT · STRATEGY · CREATIVE · UX · UI · SHOOT · DEVELOPMENT · STRATEGY · CREATIVE · UX · UI · SHOOT · DEVELOPMENT · STRATEGY · CREATIVE · UX · UI · SHOOT · DEVELOPMENT · STRATEGY · CREATIVE · UX · UI · SHOOT · DEVELOPMENT · STRATEGY · CREATIVE · UX · UI · SHOOT · DEVELOPMENT · STRATEGY · CREATIVE · UX · UI · SHOOT · DEVELOPMENT · STRATEGY · CREATIVE · UX · UI · SHOOT · DEVELOPMENT ·
THE BRIEF
An ancient experience
Voyages were suffering from an outdated website that offered an overwhelming amount of information. Our task was to improve the overall time spent on their page by simplifying the user experience while still showcasing their many offers.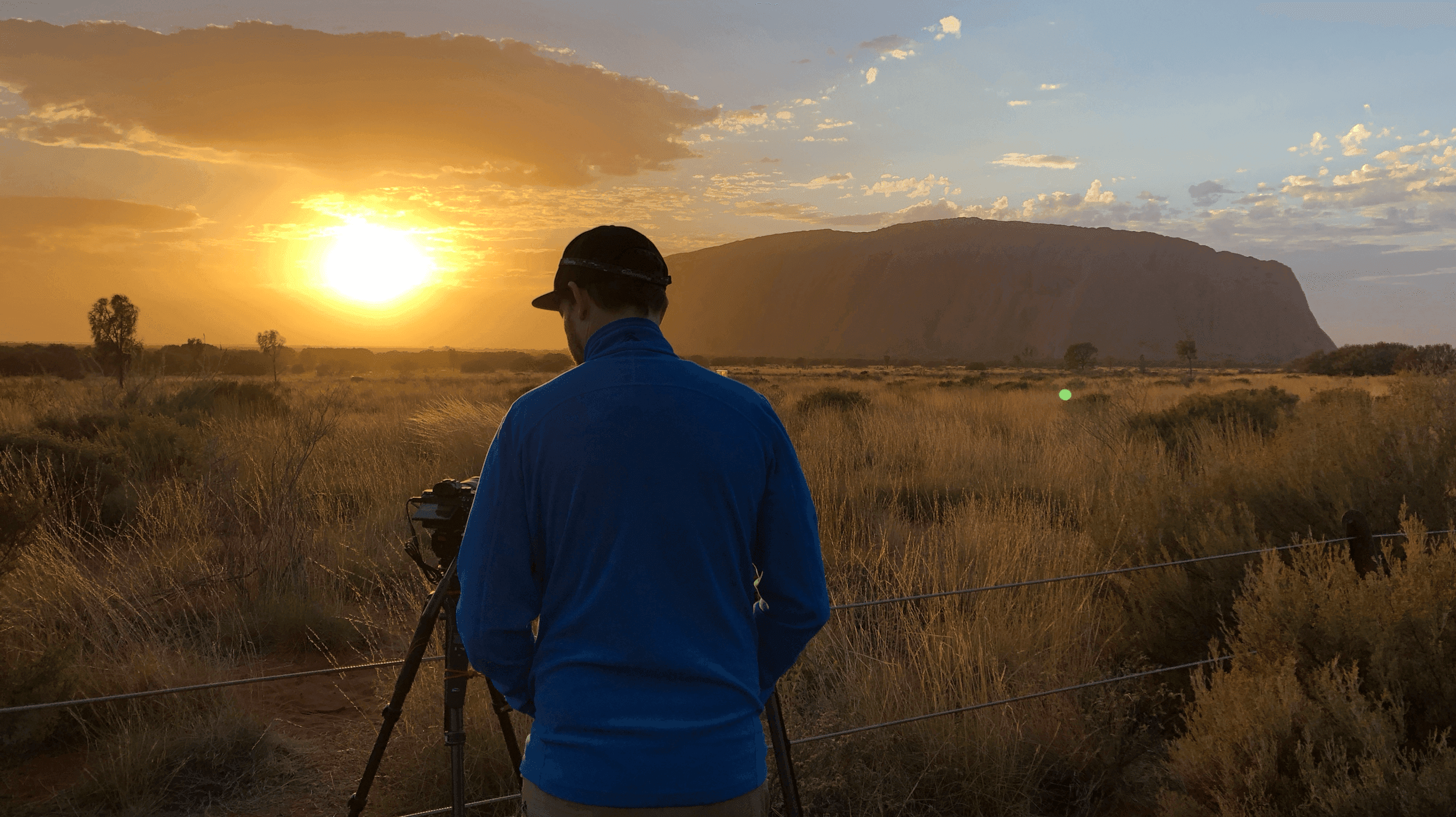 THE SOLUTION
Choose your own adventure
After investigating Uluru's traveller demographic, we created 6 insight-driven personas and built an interactive experience on the homepage. Here, visitors could choose an adventure based on a persona to see what 24 hours in Uluru could look like.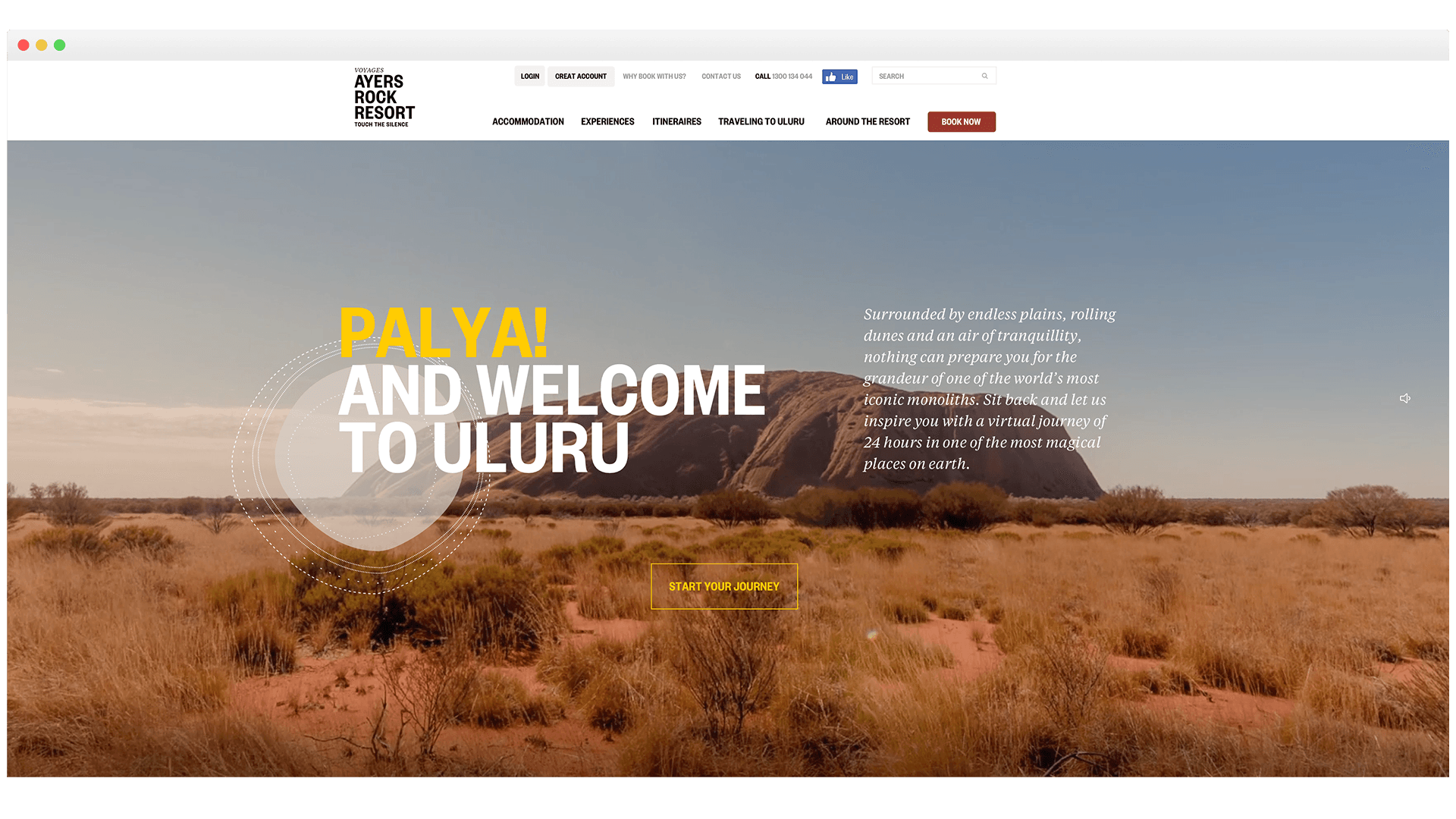 THE WEBSITE
From sunrise to sunset
Each trip option featured an interactive timeline where users could control the time of day. Depending on which one they picked, they would discover a variety of time-specific experiences that they could interact with and book.
SOCIAL
Tapping into inspiration
We adapted our work for Facebook and Instagram Stories, targeting our different demographics with relevant experiences that would drive them to our website experience.