Always campaign
DESIGN · MOTION · SOCIAL · DISPLAY · UI · UX · DEVELOPMENT · DESIGN · MOTION · SOCIAL · DISPLAY · UI · UX · DEVELOPMENT · DESIGN · MOTION · SOCIAL · DISPLAY · UI · UX · DEVELOPMENT · DESIGN · MOTION · SOCIAL · DISPLAY · UI · UX · DEVELOPMENT · DESIGN · MOTION · SOCIAL · DISPLAY · UI · UX · DEVELOPMENT · DESIGN · MOTION · SOCIAL · DISPLAY · UI · UX · DEVELOPMENT · DESIGN · MOTION · SOCIAL · DISPLAY · UI · UX · DEVELOPMENT · DESIGN · MOTION · SOCIAL · DISPLAY · UI · UX · DEVELOPMENT · DESIGN · MOTION · SOCIAL · DISPLAY · UI · UX · DEVELOPMENT · DESIGN · MOTION · SOCIAL · DISPLAY · UI · UX · DEVELOPMENT · DESIGN · MOTION · SOCIAL · DISPLAY · UI · UX · DEVELOPMENT · DESIGN · MOTION · SOCIAL · DISPLAY · UI · UX · DEVELOPMENT · DESIGN · MOTION · SOCIAL · DISPLAY · UI · UX · DEVELOPMENT · DESIGN · MOTION · SOCIAL · DISPLAY · UI · UX · DEVELOPMENT · DESIGN · MOTION · SOCIAL · DISPLAY · UI · UX · DEVELOPMENT · DESIGN · MOTION · SOCIAL · DISPLAY · UI · UX · DEVELOPMENT · DESIGN · MOTION · SOCIAL · DISPLAY · UI · UX · DEVELOPMENT · DESIGN · MOTION · SOCIAL · DISPLAY · UI · UX · DEVELOPMENT · DESIGN · MOTION · SOCIAL · DISPLAY · UI · UX · DEVELOPMENT · DESIGN · MOTION · SOCIAL · DISPLAY · UI · UX · DEVELOPMENT · DESIGN · MOTION · SOCIAL · DISPLAY · UI · UX · DEVELOPMENT · DESIGN · MOTION · SOCIAL · DISPLAY · UI · UX · DEVELOPMENT · DESIGN · MOTION · SOCIAL · DISPLAY · UI · UX · DEVELOPMENT · DESIGN · MOTION · SOCIAL · DISPLAY · UI · UX · DEVELOPMENT · DESIGN · MOTION · SOCIAL · DISPLAY · UI · UX · DEVELOPMENT · DESIGN · MOTION · SOCIAL · DISPLAY · UI · UX · DEVELOPMENT · DESIGN · MOTION · SOCIAL · DISPLAY · UI · UX · DEVELOPMENT · DESIGN · MOTION · SOCIAL · DISPLAY · UI · UX · DEVELOPMENT · DESIGN · MOTION · SOCIAL · DISPLAY · UI · UX · DEVELOPMENT · DESIGN · MOTION · SOCIAL · DISPLAY · UI · UX · DEVELOPMENT · DESIGN · MOTION · SOCIAL · DISPLAY · UI · UX · DEVELOPMENT · DESIGN · MOTION · SOCIAL · DISPLAY · UI · UX · DEVELOPMENT · DESIGN · MOTION · SOCIAL · DISPLAY · UI · UX · DEVELOPMENT · DESIGN · MOTION · SOCIAL · DISPLAY · UI · UX · DEVELOPMENT · DESIGN · MOTION · SOCIAL · DISPLAY · UI · UX · DEVELOPMENT · DESIGN · MOTION · SOCIAL · DISPLAY · UI · UX · DEVELOPMENT · DESIGN · MOTION · SOCIAL · DISPLAY · UI · UX · DEVELOPMENT · DESIGN · MOTION · SOCIAL · DISPLAY · UI · UX · DEVELOPMENT · DESIGN · MOTION · SOCIAL · DISPLAY · UI · UX · DEVELOPMENT · DESIGN · MOTION · SOCIAL · DISPLAY · UI · UX · DEVELOPMENT · DESIGN · MOTION · SOCIAL · DISPLAY · UI · UX · DEVELOPMENT · DESIGN · MOTION · SOCIAL · DISPLAY · UI · UX · DEVELOPMENT · DESIGN · MOTION · SOCIAL · DISPLAY · UI · UX · DEVELOPMENT · DESIGN · MOTION · SOCIAL · DISPLAY · UI · UX · DEVELOPMENT · DESIGN · MOTION · SOCIAL · DISPLAY · UI · UX · DEVELOPMENT · DESIGN · MOTION · SOCIAL · DISPLAY · UI · UX · DEVELOPMENT · DESIGN · MOTION · SOCIAL · DISPLAY · UI · UX · DEVELOPMENT · DESIGN · MOTION · SOCIAL · DISPLAY · UI · UX · DEVELOPMENT · DESIGN · MOTION · SOCIAL · DISPLAY · UI · UX · DEVELOPMENT · DESIGN · MOTION · SOCIAL · DISPLAY · UI · UX · DEVELOPMENT · DESIGN · MOTION · SOCIAL · DISPLAY · UI · UX · DEVELOPMENT · DESIGN · MOTION · SOCIAL · DISPLAY · UI · UX · DEVELOPMENT · DESIGN · MOTION · SOCIAL · DISPLAY · UI · UX · DEVELOPMENT · DESIGN · MOTION · SOCIAL · DISPLAY · UI · UX · DEVELOPMENT · DESIGN · MOTION · SOCIAL · DISPLAY · UI · UX · DEVELOPMENT · DESIGN · MOTION · SOCIAL · DISPLAY · UI · UX · DEVELOPMENT · DESIGN · MOTION · SOCIAL · DISPLAY · UI · UX · DEVELOPMENT · DESIGN · MOTION · SOCIAL · DISPLAY · UI · UX · DEVELOPMENT · DESIGN · MOTION · SOCIAL · DISPLAY · UI · UX · DEVELOPMENT · DESIGN · MOTION · SOCIAL · DISPLAY · UI · UX · DEVELOPMENT · DESIGN · MOTION · SOCIAL · DISPLAY · UI · UX · DEVELOPMENT · DESIGN · MOTION · SOCIAL · DISPLAY · UI · UX · DEVELOPMENT · DESIGN · MOTION · SOCIAL · DISPLAY · UI · UX · DEVELOPMENT · DESIGN · MOTION · SOCIAL · DISPLAY · UI · UX · DEVELOPMENT · DESIGN · MOTION · SOCIAL · DISPLAY · UI · UX · DEVELOPMENT · DESIGN · MOTION · SOCIAL · DISPLAY · UI · UX · DEVELOPMENT · DESIGN · MOTION · SOCIAL · DISPLAY · UI · UX · DEVELOPMENT · DESIGN · MOTION · SOCIAL · DISPLAY · UI · UX · DEVELOPMENT · DESIGN · MOTION · SOCIAL · DISPLAY · UI · UX · DEVELOPMENT · DESIGN · MOTION · SOCIAL · DISPLAY · UI · UX · DEVELOPMENT · DESIGN · MOTION · SOCIAL · DISPLAY · UI · UX · DEVELOPMENT · DESIGN · MOTION · SOCIAL · DISPLAY · UI · UX · DEVELOPMENT · DESIGN · MOTION · SOCIAL · DISPLAY · UI · UX · DEVELOPMENT · DESIGN · MOTION · SOCIAL · DISPLAY · UI · UX · DEVELOPMENT · DESIGN · MOTION · SOCIAL · DISPLAY · UI · UX · DEVELOPMENT · DESIGN · MOTION · SOCIAL · DISPLAY · UI · UX · DEVELOPMENT · DESIGN · MOTION · SOCIAL · DISPLAY · UI · UX · DEVELOPMENT · DESIGN · MOTION · SOCIAL · DISPLAY · UI · UX · DEVELOPMENT · DESIGN · MOTION · SOCIAL · DISPLAY · UI · UX · DEVELOPMENT · DESIGN · MOTION · SOCIAL · DISPLAY · UI · UX · DEVELOPMENT · DESIGN · MOTION · SOCIAL · DISPLAY · UI · UX · DEVELOPMENT · DESIGN · MOTION · SOCIAL · DISPLAY · UI · UX · DEVELOPMENT · DESIGN · MOTION · SOCIAL · DISPLAY · UI · UX · DEVELOPMENT · DESIGN · MOTION · SOCIAL · DISPLAY · UI · UX · DEVELOPMENT · DESIGN · MOTION · SOCIAL · DISPLAY · UI · UX · DEVELOPMENT · DESIGN · MOTION · SOCIAL · DISPLAY · UI · UX · DEVELOPMENT · DESIGN · MOTION · SOCIAL · DISPLAY · UI · UX · DEVELOPMENT · DESIGN · MOTION · SOCIAL · DISPLAY · UI · UX · DEVELOPMENT · DESIGN · MOTION · SOCIAL · DISPLAY · UI · UX · DEVELOPMENT · DESIGN · MOTION · SOCIAL · DISPLAY · UI · UX · DEVELOPMENT · DESIGN · MOTION · SOCIAL · DISPLAY · UI · UX · DEVELOPMENT · DESIGN · MOTION · SOCIAL · DISPLAY · UI · UX · DEVELOPMENT · DESIGN · MOTION · SOCIAL · DISPLAY · UI · UX · DEVELOPMENT · DESIGN · MOTION · SOCIAL · DISPLAY · UI · UX · DEVELOPMENT · DESIGN · MOTION · SOCIAL · DISPLAY · UI · UX · DEVELOPMENT · DESIGN · MOTION · SOCIAL · DISPLAY · UI · UX · DEVELOPMENT · DESIGN · MOTION · SOCIAL · DISPLAY · UI · UX · DEVELOPMENT · DESIGN · MOTION · SOCIAL · DISPLAY · UI · UX · DEVELOPMENT · DESIGN · MOTION · SOCIAL · DISPLAY · UI · UX · DEVELOPMENT · DESIGN · MOTION · SOCIAL · DISPLAY · UI · UX · DEVELOPMENT ·
THE BRIEF
It all began in 1831
From the building of the Sydney Opera House to the Melbourne tram system, Fairfax have reported to Australian communities for decades. However, with the rising popularity of online media, they needed to re-establish their presence.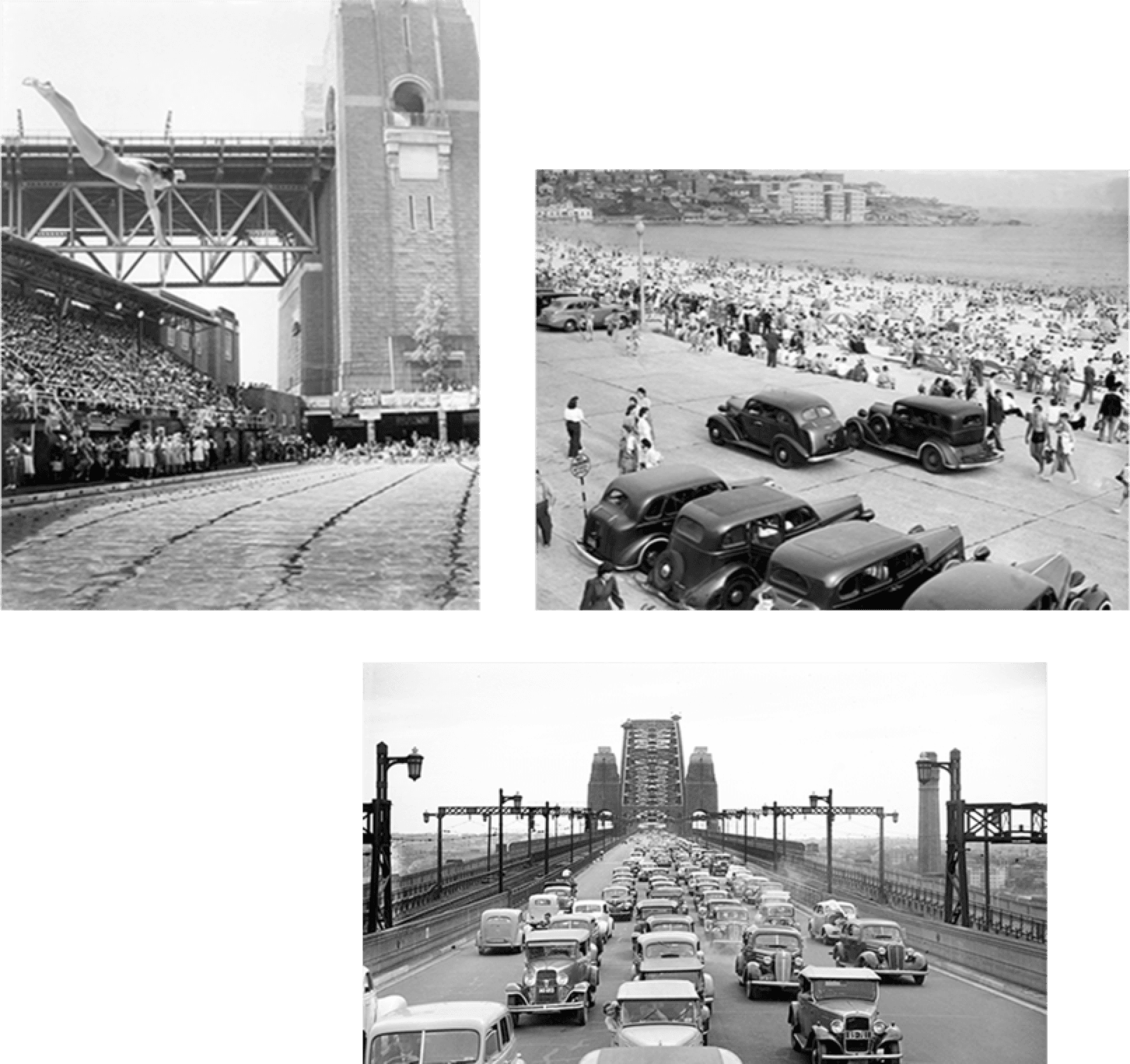 THE IDEA
Digging up the past
To demonstrate Fairfax's unwavering dedication to journalism over the years, we selected photography from their archives and brought them to life in specific DOOH placements so people could compare their surroundings to the past.
SOCIAL & DISPLAY
Locals only
We used geolocation to deliver bespoke versions of the campaign that used photos from the areas our audience were in. So, if we knew they were based in Bondi, they would see Bondi in 1944.
MICROSITE
Take a virtual tour
To drive further engagement with the campaign, we built interactive maps of Sydney and Melbourne that allowed users to click on pins and view photos from that location in the past.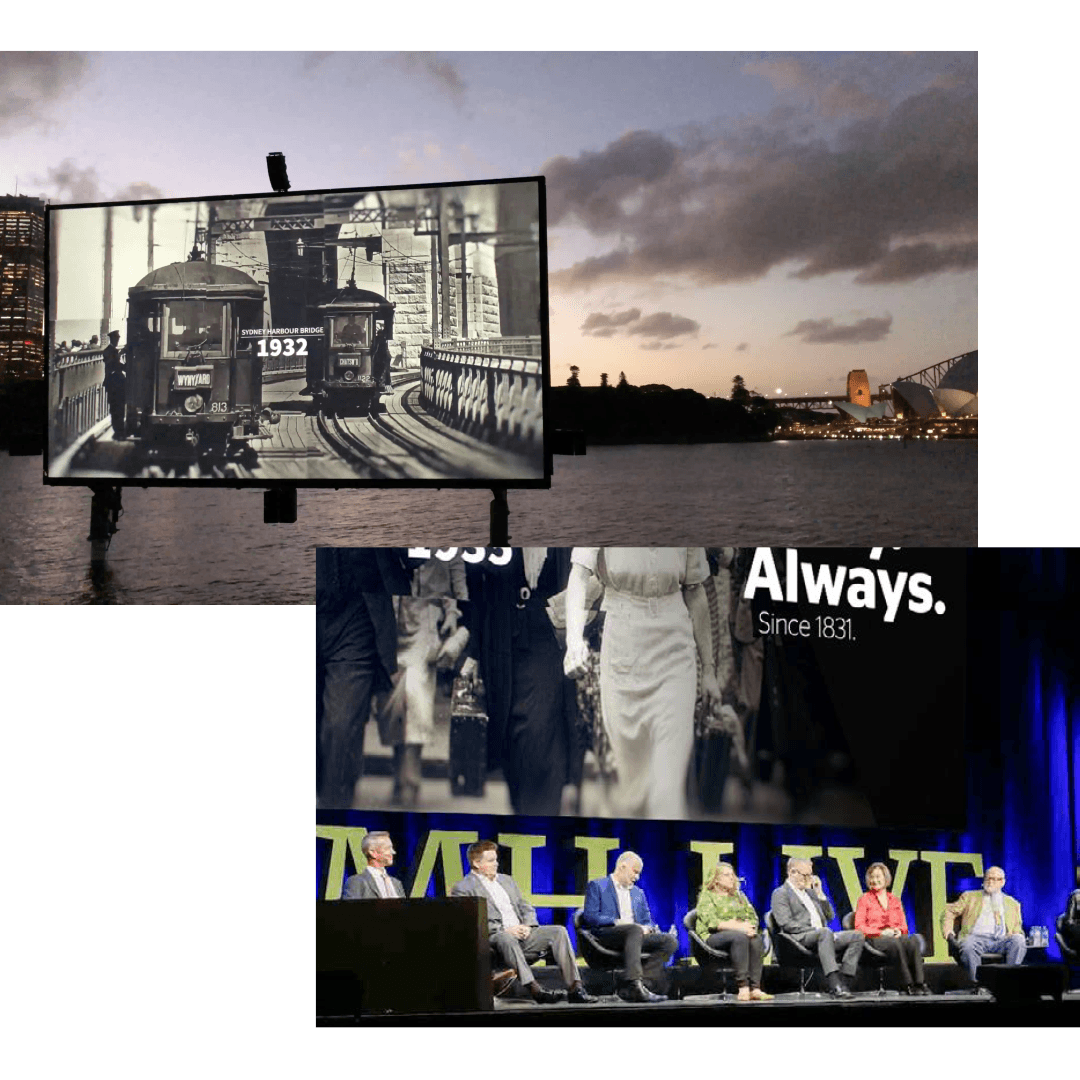 EVENTS
Immersed in history
We animated 30s and 60s spots for both the St George Open Air Cinema in Sydney and the Melbourne Moonlight Cinema so viewers could be surrounded by the modern city with a window into the past.